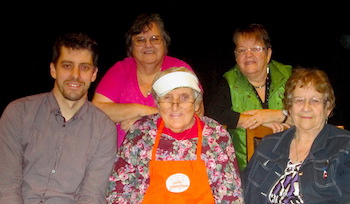 ABRAM-VILLAGE – Nov. 8, 2017 – Conflicts in every direction, tons of laughter, a delicious turkey supper and beautiful Christmas music. That's what everyone can expect from the first-ever French Christmas dinner-theatre show that the Acadian Musical Village is producing in Abram-Village this December.
Nancy Smith wrote and directed this comedic production entitled "Le Mariage d'Élizabeth" (Elizabeth's Marriage). This is her first play so she is quite excited to see what kind of reactions she'll get from the crowds who will attend the three-show run on Dec. 7, 9 and 14.
"We've been talking about trying such an adventure for several years, but this year, we decided to take the plunge and to mount a Christmas-time production," says Marcel Bernard, president of the Acadian Musical Village's board of directors. "We hope that Islanders who usually come and watch our summer shows will check out this new production."
To ensure the success of her show, Smith brought in a troupe of local theatrical veterans. First of all, she is pleased to announce the triumphant return to the stage of Marianne Rousselle, who starred for several years as the feisty grandma in the former "La Cuisine à Mémé" dinner-theatre in Mont-Carmel.
STORYLINE
The director explains that Rousselle will play Tarzille, a grandmother who too often sticks her nose in other people's business. Before leaving this world, she would truly like to see her granddaughter Elizabeth (played by Sandy Arsenault) settle down and get married once and for all – hopefully during this Christmas season. However, Elizabeth loves guys way too much to commit herself to just one man; she just wants to keep playing the field, enjoying the flavor of the month, and then passing on to the next guy.
Tarzille recruits her best friend Perpétue (Marguerite Gallant) to help her fight Mr. Right for Elizabeth. Perpétue doesn't always like her friend's underhanded tactics but goes along with them just the same. Angèle (Zita Arsenault), Tarzille's widowed daughter-law, finds herself caught in the middle of this crazy situation. This hard worker would rather not get involved in her mother-in-law's trickery, but she doesn't have much money and has no option but to help Tarzille if she wants to keep receiving her financial assistance.
The neighborhood's big yet calm farmer, Jean-Guy (played by Nick Arsenault), is set to be the best man of the groom, Alphonse. He will therefore serve as a liaison between Alphonse and the ladies.
The future groom and the parish priest will also have a word to say in this situation. And that's when all hell breaks loose between the families, which causes a lot of anguish for poor Elizabeth.
Special guests will be welcomed to the stage during this evening of comedy and music.
The dinner-theatre begins at 6:30 p.m. but doors open at 6 p.m. Tickets are being sold at $38 for adults and $20 for children (taxes included). To reserve and buy tickets, please call the Acadian Musical Village at 902-854-3300 or Nancy Smith at 902-854-2072.
-30-
PHOTO CUTLINE: The cast of "Elizabeth's Marriage" is comprised of, first row from left, Nick Arsenault (Jean-Guy, the farmer), Marianne Rousselle (Tarzille) and Marguerite Gallant (the friend Perpétue). In the back row: Zita Arsenault (daughter-in-law Angèle) and Sandy Arsenault (the granddaughter Elizabeth who might be getting married).
For more information:
Nancy Smith
Playwright and director
"Le Mariage d'Élizabeth"
902-854-2072
NancySmith42243@hotmail.com