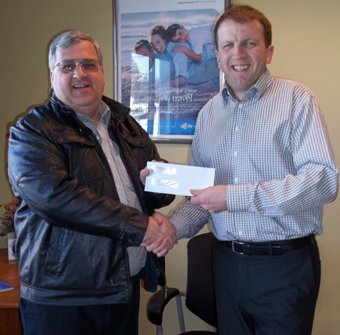 SUMMERSIDE, PEI – Feb. 7, 2013 – Business people, colleagues, employees, friends and family are being strongly encouraged to attend the fabulous 2013 Entrepreneurs' Gala, Saturday, March 16, at the Centre Belle-Alliance in Summerside, to help the Acadian and Francophone Chamber of Commerce of PEI honor the 20 finalists for the five entrepreneurial awards it will be presenting that evening.
"For the most part, our finalists manage small businesses but they still contribute greatly to the economy of the province, they create a number of jobs and they get involved quite generously in the development of their communities," explains Jeannette Arsenault, spokesperson for the Chamber. "They represent the very heart and soul of our communities, but we don't take the opportunity to thank them nearly often enough. So here is your chance."
Arsenault announced that tickets for the Gala are now on sale, at a price of $25 plus GST for Chamber members and $30 plus GST for non-members, at the Rural Action Centre in Wellington (48 Mill Rd.), at the RDÉE PEI offices in Charlottetown (137 Queen St., Suite 204) and at the Centre Belle-Alliance in Summerside (5 Maris Stella Ave.) Tickets must be purchased no later than March 8. Payment must be by cash or cheque payable to RDÉE Prince Edward Island; credit cards are not accepted.
"Those who want to attend must act fast since last year, our Gala attracted a record crowd of 148 people! You certainly wouldn't want to miss your chance by waiting too long to get your tickets," suggests the spokesperson.
THE GALA
Arsenault said the gala evening begins at 6 p.m. with a social reception and mixer with free punch and cash bar. A delicious three-course meal – prepared by renowned cook Patsy Richard – will then be served starting at 6:30 p.m. Complementary white and red wine will accompany the meal.
During the evening, certificates will be given to each of the 20 finalists as their biographies and images of their accomplishments are presented to the crowd. A trophy will then be presented to the winner of each of the five award categories: 2013 Enterprising Youth, 2013 Co-op of the Year, 2013 Business Woman of the Year, 2013 Distinguished Entrepreneur and finally the top prize, the 2013 President's Award of Excellence.
In addition, for a first time this year, a new award will be presented; the Young Millionaires' Award will be given to one of last summer's youth summer businesses for exceptional accomplishments.
The evening will wrap up with the presentation of door prizes and a social gathering in the Pierre-Part Lounge. And once again this year, Pro-Max 2000 and RDÉE Prince Edward Island are providing a small gift for everyone in attendance.
"Our Gala evening has become a classy event that is semi-formal so we invite everyone to dress up in business attire," adds the spokesperson. "We consider our gala to be one of the best awards nights organized by Chambers of Commerce on PEI."
The 2013 Entrepreneurs' Gala is made possible thanks to contributions from several major sponsors. So far, confirmed sponsorships will come from the Atlantic Canada Opportunities Agency, the Province of Prince Edward Island, the Evangeline-Central Credit Union, RDÉE Prince Edward Island, CBDC Central PEI, The Co-operators (Mike Bradley Insurance Services), the PERCÉ program, the Royal Bank of Canada and La Voix acadienne.
-30-
CUTLINE: Raymond J. Arsenault, left, coordinator of the 2013 Entrepreneurs' Gala being organized by the Acadian and Francophone Chamber of Commerce of PEI, accepts a $1,000 sponsorship cheque from Mike Bradley, representing The Co-operators (Mike Bradley Insurance Services).
For more information:
Raymond J. Arsenault
Coordinator
2013 Entrepreneurs' Gala
(902) 854-3665
raymond@rdeeipe.org