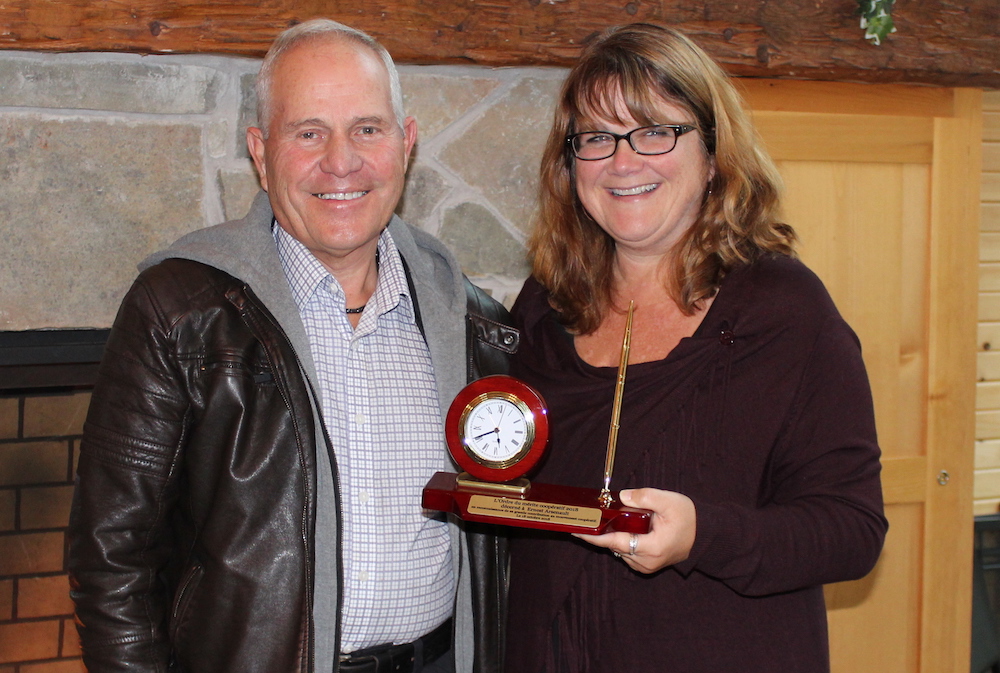 CAPE EGMONT – Oct. 19, 2018 – The well-known co-operator Ernest Arsenault, who'll forever be associated with Wellington Co-op even though he's been retired for a decade, has just been named the recipient of the 2018 Co-op Order of Merit for his personal and professional devotion to the movement.
The Conseil de développement coopératif de l'Î.-P.-É. (CDC – the francophone co-op development council) presented him this prestigious distinction Oct. 18 before 16 participants at the Co-operators' Forum at the Centre Goéland in Cape Egmont.
When the selection committee was searching for deserving candidates for the award, "the choice was extremely easy because we've seen such a person working 100 miles an hour throughout his career at Wellington Co-op, especially during the final years before his retirement. It was during those years that he was making all the arrangements for a major renovation and extension to the Wellington Co-op," explained award presenter Giselle Bernard.
"A twin son of Polycarpe and Rosida Arsenault of St. Chrysostome, Ernest inherited some beautiful personality traits from his parents. He has always been humble and kind, he's always had a great big heart and has always been extremely generous," continued Bernard.
Arsenault first worked in the now-defunct Arsenault & Gaudet general store in Wellington as meat manager for eight years, starting in 1962.
In September 1970, he was hired to take over the meat department at Wellington Co-op. Ten years later, when the store manager position opened up, the board asked him to take on this challenge for a year. Twenty-seven years later, he was still in the same position.
For more than a quarter century, he directed the co-op through a series of major transformations to make it more profitable and competitive. He was a driving force behind the construction of the new store that was attached onto the Place du Village mini-mall in 1990.
"Ernest's conviction and devotion are the main reasons we still have our co-op today," said Bernard. "He would never stop promoting the advantages of co-operation among the members and the community in general."
Under his guidance, the Co-op earned 13 performance awards and five recognition awards from Co-op Atlantic. In 2006, the Co-op earned the Co-op of the Year Award from the CDC. "All these awards were won mostly because of the hard work by Ernest and his devoted staff," said the presenter.
ECO-FRIENDLY
Bernard noted that "Some of us might remember that in 1994-95, long before society began to talk seriously about ecological conservation, Ernest developed a project to hire a group of women to make cotton shopping bags to reduce the volume of plastic bags that were making their way to landfills. He received a beautiful ecological conservation award for his project." It was only 10 or 12 years later than other grocery chains and department stores followed suit and introduced reusable bags.
Arsenault served on the CDC board for 22 years, has been a member of the Culture Crafts Co-op board for 23 years and was a firefighter for 23 years. He also served on the Wellington Parish Council for several years, including four or five years as president. He was also one of the founders of the former Evangeline Health Co-op.
"We have to admit that it was quite an adjustment for Ernest when he finally retired from the co-op in 2008. But we knew that he would stay still for too long. He continued working part-time for quite a while," said Bernard. "But apart from that, he continues to fish wish his brothers and to spend time with his family: his lovely wife Donna, his four daughters, his two sons, his 13 grandkids and his great-grandkids."
In the year of his retirement, at the Entrepreneurs' Gala held by the Acadian and Francophone Chamber of Commerce, he received a special recognition award for his contribution to the economic development of the Evangeline region. "This year, we wanted to recognize him even more officially without our highest distinction – the Co-op Order of Merit," concluded Bernard.
-30-
CUTLINE: On behalf of the organizing committee of the Co-operators' Forum, Giselle Bernard presented the 2018 Co-op Order of Merit to Ernest Arsenault of Wellington, Oct. 18, during the Co-operators' Forum at the Centre Goéland.
For more information:
Velma Robichaud
902-854-3439, Ext. 227
velma@rdeeipe.org