ABRAM-VILLAGE, PEI – Nov. 9, 2012 – The Grade 11 entrepreneurial class at Evangeline School in Abram-Village is hoping to warm heads, ears and hearts over the next few months.
To explain: the students have established a business named "Les Têtes tempérées" (temperate heads) whose primary goal is to sell tuques bearing the name of the school at $15 each. With these blue woolen hats (which the students say make excellent Christmas presents), owners will be able to keep their head and ears warm during the coming winter months.
However, at the end of the semester, when the class divides sales profits, they expect to share a bit of the proceeds in the form of dividends with their investor-shareholders. But they would like to contribute the majority of profits to two special charities: the IWK Health Centre children's hospital in Halifax, N.S., and the Summerside Salvation Army, which operates a food bank, a used clothing store and various other services for underprivileged people in the county.
The entrepreneurial course is part of the regular school curriculum and is offered in collaboration with Junior Achievement's Company Program: A Student Venture. It is delivered mostly by class teacher Josée Babineau but once a week, Velma Robichaud, development officer with RDÉE Prince Edward Island (the provincial francophone economic development council), meets with the class to help the students with their project.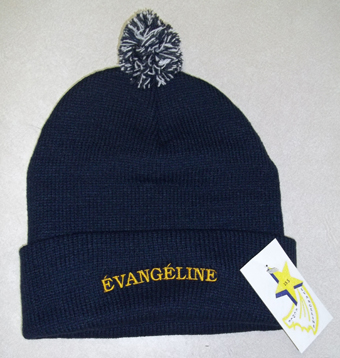 Through the course, its eight students learn about the various steps that must be taken to establish a business, including the business plan, the financial plan, marketing, promotion, human resource management and production, among others. They also learn about the sale of shares since they must each sell at least 10 shares, for $10 each, to their parents, friends, teachers and other acquaintances. These investments provide the class with a bit of cash flow.
The students also learn now a board of directors works. Each week, the board meets to take important decisions about various aspects of their company's management.
RESPONSIBILITIES
Each of the eight students must play a particular role in the business. Catherine Arsenault is it president while Kendra Arsenault is responsible for human resources and Lexia Jaxen takes care of finances. Scott Bernard and Mélanie McQuaid are responsible for information technology. Eddie Arsenault and Brandon Arsenault are in charge of marketing and sales while Zakk Cormier is in charge of production and operations.
The students will of course use the Internet to help promote their product. They are currently setting up a webpage and a Facebook page.
Over the next few weeks, tuques can be purchased at the school or at sales tables that will be set up in various locations, including Evangeline Recreation Centre, Wellington Co-op and Place du Village mini-mall, as well as at the Christmas concerts being hosted by the school and the Centre Expo-Festival.
"We are extremely excited to be a part of this class since we're learning all kind of things that could help us if ever we decide to start our own business," says president Catherine Arsenault. "At the same time, we hope to be able to give back to people who are in need."
Robichaud said she is quite impressed by the enthusiasm shown by these budding entrepreneurs. "They're convinced and proud of their product as well as about the charities they are supporting."
-30-
CUTLINE: The Evangeline School entrepreneurial class, known by the name "Les Têtes tempérées", has begun selling its blue tuques. From left are student Brandon Arsenault, responsible for marketing and sales, selling a first hat to teacher Josée Babineau. Velma Robichaud, development officer with RDÉE PEI, purchases one of the first tuques from Kendra Arsenault, in charge of human resources.
For more information:
Velma Robichaud
Development Officer
RDÉE Prince Edward Island Inc.
(902) 854-3658
Catherine Arsenault
President
Les Têtes tempérées
(902) 854-2491
Josée Babineau
Entrepreneurial course teacher
Évangéline School
(902) 854-2491