Expansion project won't proceed this spring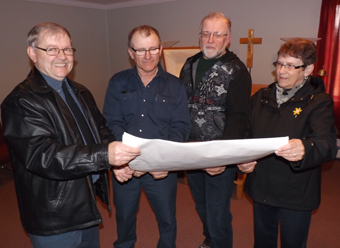 URBAINVILLE, PEI – April 19, 2013 – Almost a year after launching a campaign to raise $160,000 for the expansion and renovation of its mortuary in Urbainville, the community-owned Evangeline Funeral Co-op has finally reached the half-way mark of its financial goal.
A recent $4,000 investment from J.C. Drilling in St. Raphael brought the fund-raising campaign to the $80,000 midpoint.
"We estimate that 30 per cent of our 1,000 members answered our call to invest an additional $100 or more into their share capital, which we truly appreciated," says president Ernest Gallant.
"However," he added, "of 100 per cent of our members signed up, we could essentially begin construction tomorrow. In fact, we would really have liked to start the expansion this spring. But at the rhythm that the investments are coming in, it could take us another year or more before we reach our goal."
OPTIONS
The co-op does have a few options that could allow it to proceed before the full amount is reached.
"We could either do our project in different phases or completely eliminate some of the facets of our project. Or, if we really had to, we could possible take out a small mortgage," mentioned Gallant. "But it will be up to the members to make a final decision on how we will proceed, either at the annual meeting in June or at another special general members' meeting."
He considers the priority and most urgent aspect of the project to be the construction of a new wake room along with the expansion and transformation of the current wake room into a waiting room. The funds raised so far could without a doubt cover this part of the project.
Other work included in the project includes the expansion of the kitchenette, the construction of an office on each side of the main entrance, the revamping of the main entrance and various other cosmetic improvements.
-30-
CUTLINE: Ernest Gallant, left, president of the Evangeline Funeral Co-op, and Freda Perry, member of the construction committee and board of directors of the co-op, go over the expansion plans with brothers John, second from left, and Alphonse Arsenault, owners of J.C. Drilling in St. Raphael, who have just contributed $4,000 to the home's expansion project.
For more information:
Ernest Gallant
President, Evangeline Funeral Co-op
(902) 854-2558
Adrien Arsenault
Manager, Evangeline Funeral Co-op
(902) 854-2828