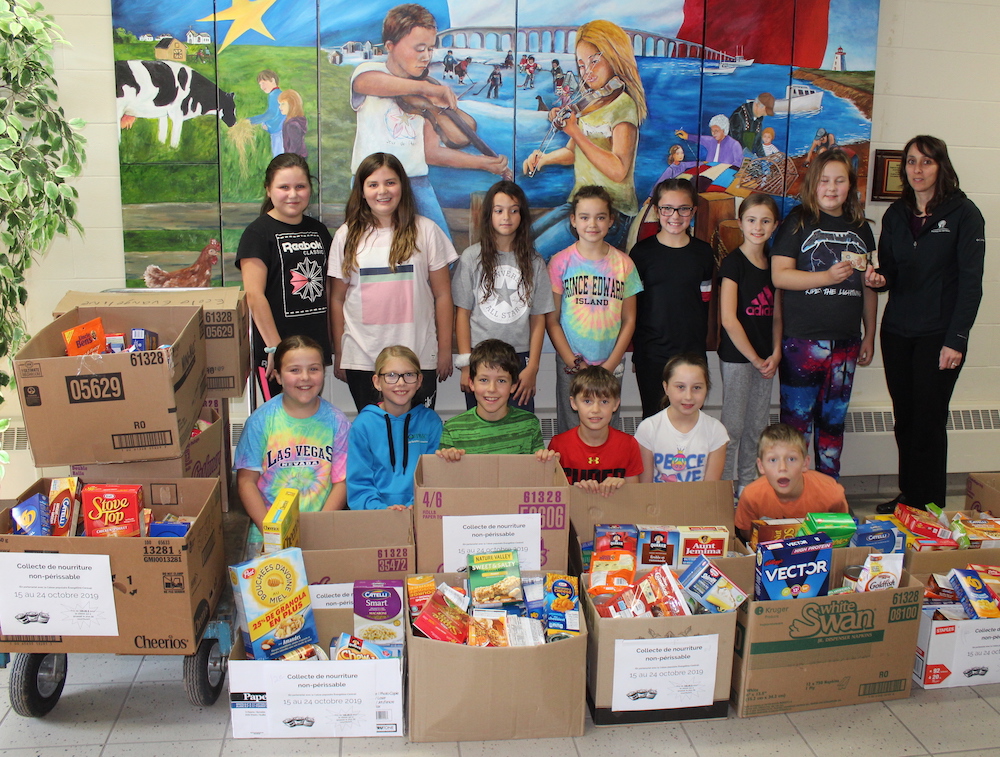 ABRAM-VILLAGE – October 25, 2019 – Students from Évangéline School in Abram-Village have just collected and contributed 749 non-perishable food items, weighing 295.33 kilograms and worth $1,683.38, to the Tyne Valley Caring Cupboard (TVCC) food bank to help families in need.
« You have no idea how these 16 large boxes of food are a boon to us! » said Doug LeBlanc, co-coordinator of the TVCC.
The number of people asking for food is increasing at this time of year as many seasonal workers and unemployed people are having difficulty feeding their families due to financial hardships, added the other co-coordinator, Verna Barlow. She reported that in the first six months of the year, 196 local families had requested food assistance; she expects that the figure for the last six months of 2019 may well exceed this number.
This great annual school drive took place during Co-op and Small Business Weeks, at the invitation of the Évangéline-Central Credit Union and various other co-operative and community partners. Claudine Blaquière's high school geopolitical class coordinated the collection at the school.
Students could simply bring food items from home. Or they could contribute food as a cost of participating in fun theme days organized for this purpose – pajama days and hat days. Or, on the two Wednesdays of the collection period, intermediate and high school students who contributed food received a ticket for a draw in the school cafeteria.
Maude Bertrand's Grade 5 class, composed of 14 students, collected 95 of the contributed items, giving them the highest contribution ratio – an average of 6.7 items per person. The class therefore won $100 from the Évangéline-Central Credit Union.
The geopolitics class then went to Tyne Valley Oct. 24 to sort all the contributions and place them on the Caring Cupboard shelves. These students also sorted through the 134 items (valued at $762.37) that came from the collection at Ellerslie Elementary School, which was also coordinated by the credit union.
-30-
PHOTO 1: The 14 students in the Grade 5 class at Évangéline School have just won a $100 cash prize for contributing the largest volume of non-perishable food per capita to the school's food drive. On the right of the photo is Diane McInnis, marketing officer at Évangéline-Central Credit Union, who is seen presenting the prize to the class.
PHOTO 2: The geopolitics class at Évangéline School, which coordinated the annual school food drive, visited the Tyne Valley Caring Cupboard Oct. 24 to help with the sorting of contributed foods. The students and their teacher Claudine Blaquière are seen with some of the food boxes along with Doug LeBlanc (far left) and Verna Barlow (far right), the two food bank coordinators.
For more information:
Diane McInnis
Marketing Officer
Évangéline-Central Credit Union
902-854-2595
dmcinnis@eccu.ca