$1,607 raised for Food Bank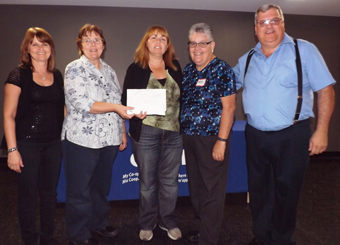 WELLINGTON, PEI – Oct. 23, 2013 – The 225 people who attended the "Let's Make A Deal" evening Friday, Oct. 18, in Wellington, had a blast playing games, winning prizes and negotiating all kinds of « deals », knowing that at the same time, they had contributed $1,607.50 to the Summerside Salvation Army Food Bank.
Karen Mallett, community ministries worker with the Salvation Army, graciously accepted the donation, saying it will help feed a number of families. She however spoke of the growing number of people who have little choice but to use the services of the food bank and the soup kitchen.
She noted she was glad to hear that the food bank will also receive a quantity of non-perishable foods raised through the annual co-op movement campaign, held at Evangeline School, Évangéline-Central Credit Union and Wellington Co-op.
The « Let's Make a Deal » evening, organized jointly by the Acadian and Francophone Chamber of Commerce of PEI, the Conseil de développement coopératif de l'Î.-P.-É. and the Conseil scolaire-communautaire Évangéline, had several objectives, including the fundraising component. As people arrived at the event, they were encouraged to make a donation at the door.
Held in the middle of the combined Co-op and Small Business Weeks, this event first sought to provide an opportunity to businesses, co-ops and organizations to promote themselves. The 30 sponsors, who had to contribute at least $200 in merchandise, gift certificates or cash, each received a one-minute commercial during the evening. Some decided to present their own commercial while others had event volunteers read them out.
Then, each sponsor had submitted two trivia questions that were asked of game players by host Raymond J. Arsenault over the course of the evening, again with the intent of helping everyone learn more about the sponsor.
SPONSORSHIPS
In addition to the contributions from these 30 sponsors, another 25 businesses offered prizes that fell under the $200 mark, so they didn't receive the mentioned benefits. Organizers had no idea that the response to their call would be so overwhelmingly positive.
« To incorporate all of these received prizes, which attained a combined total value of $10,000, we had organized 12 big games and 23 mini-games called Quickies, » explains coordinator Raymond J. Arsenault. « So when you added all the commercials and trivia questions, you could imagine that it would be a long evening. In fact, it ran for four hours! But most of the people stayed for the whole thing because of the amazing prizes that were being offered and because they were obviously having fun. »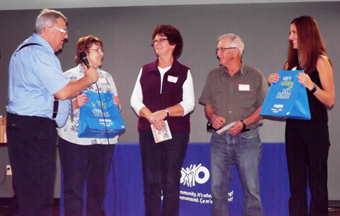 Angèle Arsenault, president of the Conseil de développement coopératif, added that the final objective of the event was to offer the community an opportunity to have fun during a social event, during Co-op Week, that would give them a chance to win prizes.
« Last year, our Let's Make a Co-op Deal game, organized on the occasion of International Year of Co-ops, had been a huge success, » she explains. « We therefore decided this year to broaden its scope to include not only co-ops, but also businesses and the community aspect. As well, this year, since we didn't have our usual community breakfast, where we usually collected funds for the food bank, we decided to transfer the collection of funds to the games night. »
BIG WINNERS
Throughout the evening, about 70 people got a chance to come up on stage to play a game. Nobody left empty-handed.
However, the big winners of the night included the following people:
Carole Gallant, who won several electrical tools (valued $585);
Christine Arsenault, who won a high-definition flat-screen TV and blu-ray surround-sound system (valued at $450);
Bernice Arsenault, the « All-Nighter » who won a full basket of prizes (worth $400);
Marie-Hélène Arsenault, who won $400 worth of work from a local contractor;
Lisa Arsenault, who took home a three-month membership from a local fitness centre, one hour of ice time at the local rink as well as a kit of promotional tools (worth $360);
Adolphe and Léona Richard, who won a gift certificate from a sports store and a variety of promotional tools (valued at $350);
sisters Lynn and Rachelle Arsenault, who won a night's stay at s hotel and two golf passes (total value of $350).
Other plays won household appliances, electronic gear, music CDs, gift certificates of all kinds, clothing, restaurant meals, overnight stays at hotels, gas cards, tickets to various shows or telephones.
Players, whose names were drawn randomly, often had the opportunity to trade their winnings for mystery prizes hidden behind doors or banners. Most of the people who traded got the better end of the deal. Others received funny prizes, but these also contained hidden treasures.
People at the evening said they had been well entertained by the games but also but the zaniness pulled off by host Raymond J. Arsenault and announcer Roger Arsenault.
-30-
CUTLINE: Organizers of the Let's Make a Deal benefit night Oct. 18 are seen presenting the $1,607.50 they helped raise to the Summerside Salvation Army Food Bank. From left are Velma Robichaud, executive director of the Conseil scolaire-communautaire Évangéline, representing the community aspect; Angèle Arsenault, president of the Conseil de développement coopératif, representing the Co-op aspect; Karen Mallett, community ministries worker with the Salvation Army; Kathy Cotton, volunteer with the food bank; and Raymond J. Arsenault, game show host and coordinator of the Acadian and Francophone Chamber of Commerce of PEI, representing the entrepreneurial aspect.
For more information:
Raymond J. Arsenault
Coordinator
Acadian and Francophone Chamber of Commerce of PEI
(902) 854-3439, Ext. 231
raymond@rdeeipe.org