Thanks in part to 2019 CMA momentum
ABRAM-VILLAGE – Oct. 31, 2019 – Thanks to a magnificent entrepreneurial and co-operative spirit and a lot of resourcefulness, the members of the Hard Workers Youth Services Co-op generated revenues of $5,079 last summer.
The co-op's eight young worker-members are delighted that they surpassed last year's revenues of $4,350 by several hundred dollars. And even after taking wages and paying all of their expenses, the young workers were still able to bank a nifty net profit of $2,572.91 to help kick off the co-op next summer.
This year's income ca
me from a variety of sources. First, the youth obtained a variety of contracts to do odd jobs in the community, either for organizations, businesses or citizens: grass cutting, painting, gardening, cleaning, taking in firewood, etc.
They then decided to build various wooden products, painted in the colors of the Acadian flag, to sell as souvenirs and decorations. They sold 24 park benches, six bird houses and 40 wooden wall plaques. A fundraising lottery, organized to help cover operational expenses, also brought in several hundred dollars.
« The fact that PEI was hosting the 2019 Congrès mondial acadien this past summer certainly helped our Youth Services Co-op because several of the Acadian park benches were sold to people who wanted to display their Acadian pride, » says Stéphane Blanchard, RDÉE Prince Edward Island's youth development officer, who supervises the co-op. « Next year, we may have to find something else, but we took advantage of the CMA-generated momentum while it was here! »
This year's co-op was composed of Jackson Arsenault (president), Annie-Pier Morency (vice-president), Isabelle Fisk (secretary), Gabrielle Gallant (treasurer), Briley Cameron, Ramsay Gallant, Jackson Arsenault and Danika Richard.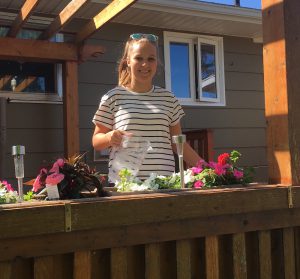 Although the program is open to youth aged 12 to 15, all participants this past summer were 12 and 13 years of age. « This program seems to primarily attract young people right before they are ready to find regular summer jobs, » observed Blanchard. « Our Co-op gives them a great first work experience that allows them to interact with the public and earn some spending money. »
Following the recruitment of young participants in late spring, the members are brought together for basic training on the co-operative movement and on the management of co-ops. They then elect a board of directors and form committees (human resources, finance and marketing) to handle various administrative tasks. Under the supervision of their coordinators, they then get to work to find work contracts or to build products to sell.
-30-
PHOTO 1: Danika Richard is seen building a bird house to sell for the Hard Workers Youth Services Co-op.
PHOTO 2: Jackson Arsenault, one of the eight members of the Hard Workers Youth Services Co-op, is seen serving a meal during a cat-sitting job.
PHOTO 3: Gabrielle Gallant, treasurer of Hard Workers Youth Services Co-op, is seen watering plants.
For more information:
Stéphane Blanchard
Youth Development Officer
RDÉE Prince Edward Island
(902) 388-8460
stephane@rdeeipe.org