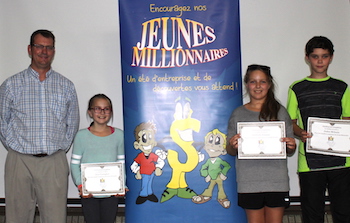 ABRAM-VILLAGE – Sept. 20, 2017 – Twenty-four young PEI Francophones gave themselves a good preview of what it's like to be an entrepreneur by establishing their own business via the Jeunes millionnaires program (French edition of Young Millionaires) this past summer. Together they sold an exceptional $10,500 worth of products and made superb profits of $7,000.
« Our young participants, who formed 18 businesses this summer, invested tonnes of time, work and energy in learning the basics of entrepreneurship, producing their wares and especially in selling their merchandise from one of the province to the other, » says Stéphane Blanchard, youth development officer with RDÉE Prince Edward Island. « We are therefore very proud of or young entrepreneurs. »
He notes that the youth, who came from Charlottetown, Summerside, Evangeline and West Prince regions, sold a wide range of products: treats and snacks, toys, arts and crafts, scented "bath bombs", bar clams, tie-dyed T-shirts, fire starters, dog clothing and accessories, herbs, lipstick, stress balls, hotdogs and hamburgers, pastries, plaques for hanging medals, decorations and chickens.
« Some sold their products from their home or at public locations such as farmers' markets but a majority attended festivals, carnivals, celebrations and events all over the Island, » adds Blanchard. « It is always so enjoyable to see the ingenuity of our young participants, as much in the choice and preparation of their products as in their ways of displaying them to the public. »
TRAINING
The participating bilingual youth attended three workshops to learn the basics of entrepreneurship, including business plans, market studies, customer service, quality control, budgets and other related topics. They then had to present their business plan during an individual interview.
When their project was approved, each youth received a grant (up to $100 for individuals and $150 for partnerships) to help establish his or her business and to purchase production materials.
In early September, closing nights were held in both Abram-Village and Charlottetown to congratulate the youth on their accomplishments and to give them an opportunity to present a brief speech about their summer business experience. The youth also got to go on a fun trip to an amusement park in Cavendish.
Again this year, RDÉE Prince Edward Island delivered the Jeunes millionnaires program, which is managed provincially by the Central Development Corporation. The program is funded through the Atlantic Canada Opportunities Agency and Innovation PEI.
-30-
CUTLINE: At the recent closing night for the 2017 Jeunes millionnaires program in Abram-Village are, from left, Stéphane Blanchard, who handed out certificates to three of the participants: Jane Carragher from The Doggy Den/Le Salon de chiens, Gabrielle Gallant from « Emily and Gabrielle's Arts and Tie-Dye » and Jaden McInnis from Yeti's Freezies.

For more information:
Stéphane Blanchard
Youth Development Officer
RDÉE Prince Edward Island
902-370-7333, ext. 402
stephane@rdeeipe.org