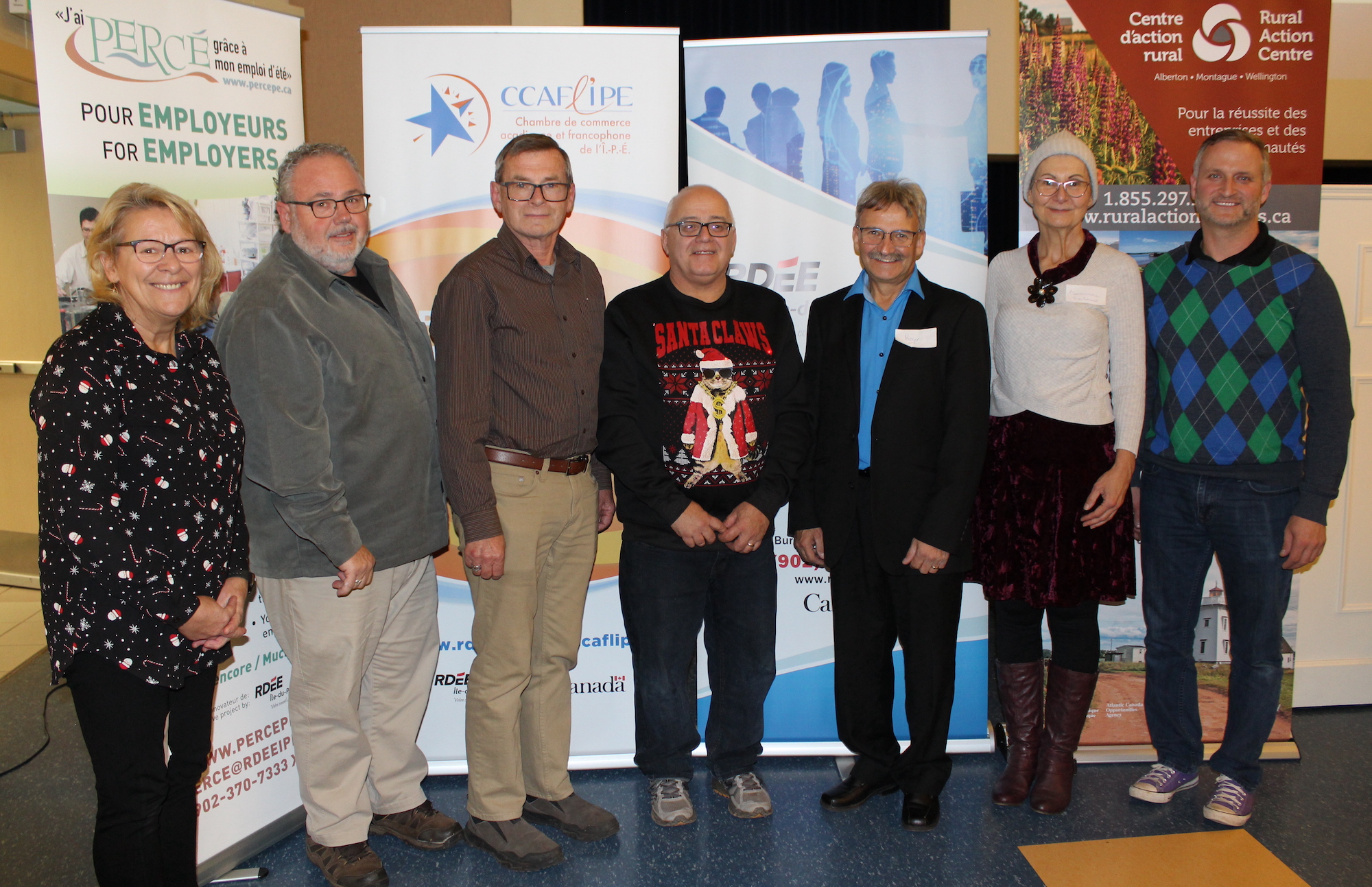 SUMMERSIDE – Dec. 3, 2022 – Eleven finalists from the Souris, Montague, Charlottetown, Rustico and Evangeline regions will be competing for five Entrepreneurial Excellence Awards from the Acadian and Francophone Chamber of Commerce of PEI (CCAFLIPE) and RDÉE Prince Edward Island at the 2023 Entrepreneurs' Gala on March 11 in Abram-Village.
Pierre Gallant, spokesperson for the CCAFLIPE, proudly announced the names of the finalists, which he considers his « favorite job » of the year, at the organisation's Christmas celebration in Summerside Friday, Dec. 2. He admitted that the Chamber did not receive as many nominations as expected because it would like to have at least three nominations per category to make the competition more interesting. He feels there are still plenty of potential candidates for all the awards but they need to be nominated.
« This year we wanted to put particular emphasis on sustainable development. We asked that nominees show the practices they have in place to ensure the sound use of natural, human, financial and material resources. We are pleased to report that the jury saw some very good practices in the nomination forms, » noted Gallant.
For the « 2022 Young Millionaires » category, which recognizes entrepreneurial participants from last summer's Young Millionaires program, aged 9 to 16, there are three finalists: Isabelle Gallant of jewelry maker Bijoux Isabelle of Cape Egmont, Victor Corney of sticker salesman Great Stick in Charlottetown and Caleb Lombardo and Leo Consejo Cadena of the souvenir-making Seaside Treasures in Souris.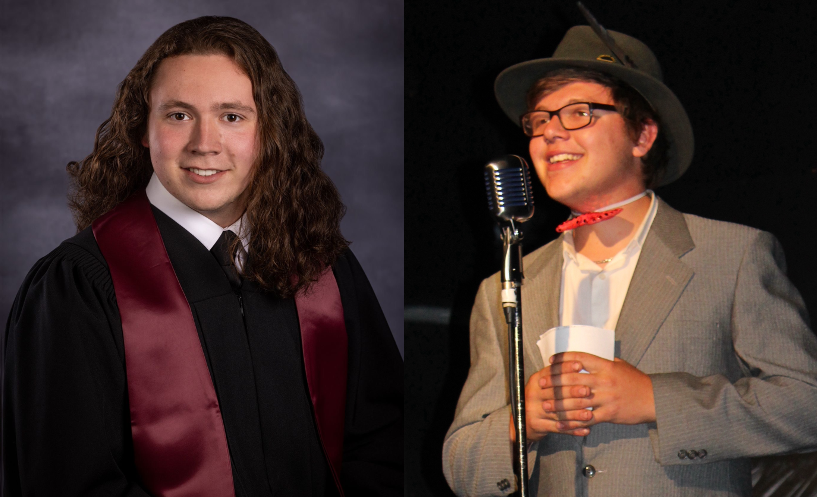 For the « 2023 Young Enterprising Person" category, the two finalists are musician-actor-lumberjack Dawson Arsenault (19 years old) from St. Chrysostome and athlete-musician-volunteer Francis-Olivier Morin (18 years old) from Montague. This award honours a young person 25 years of age or younger who has demonstrated outstanding entrepreneurial (or community) involvement and initiative, especially during the past year.
There was only one very deserving candidate in the "2023 Social Economy Business" category: The Friends of the Farmers Bank of Rustico Inc. This award seeks to honour a business, cooperative or organization that has a certain economic vocation and has distinguished itself by its accomplishments and successes, including its impact on its community.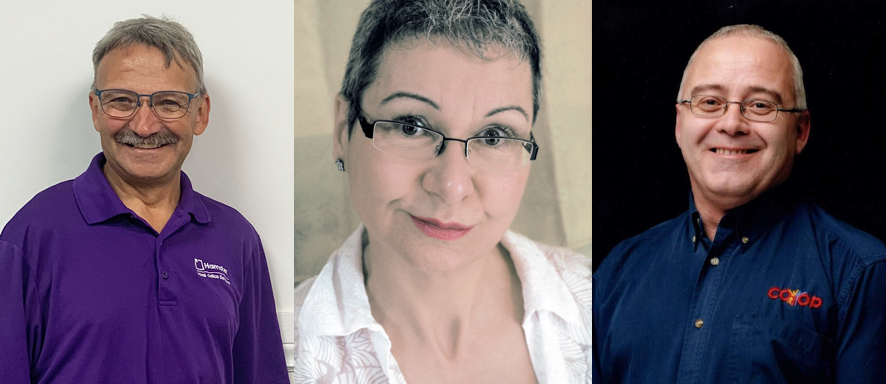 The "2023 Distinguished Employee Award", which attracted three candidates, recognizes an employee of a business, cooperative or organization who has distinguished himself or herself primarily by the quality of his or her customer service or by his or her achievements or leadership in the business world. The finalists are Roger Caissie of St. Gilbert (employee of HMS Office Solutions for 15 years), Jacinthe Laforest of Mont-Carmel (employee of La Voix acadienne for 34 years) and David Perry of St. Raphael (employee of the Wellington Co-op for 30 years).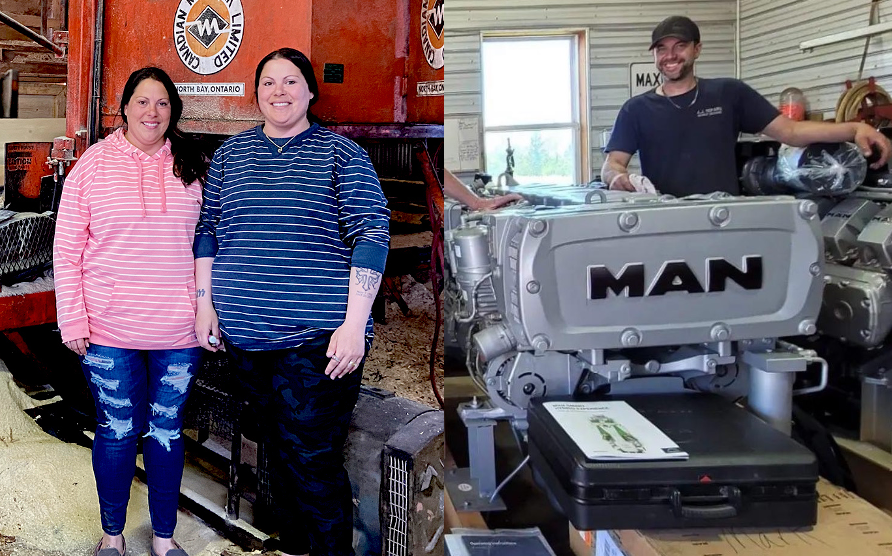 Two finalists were accepted in the "2023 Business Excellence Award" category. The finalists had to have distinguished themselves in a particular way and demonstrated excellence, especially in the past year, in sustainable development, innovation, quality of service, job creation or community impact. The first finalist is A.J. Repairs Ltd, a marine engine repair and sales business owned by Justin Arsenault of Abram-Village, and the second is Arsenault Family Lumber owned by Janine and Janelle Arsenault of St. Chrysostome.
During the Gala, CCAFLIPE will also induct five people – including three business owners and two farmers into the Acadian and Francophone Business Hall of Fame of PEI: the late Euclide Arsenault of Wellington, Jeanne Durant of Mont-Carmel, Ernest Arsenault of Wellington, Euclide Gallant of Urbainville and Melvin Gallant of St. Timothy.
-30-
PHOTO: The Acadian and Francophone Chamber of Commerce of PEI has announced the finalists for its Entrepreneurial Excellence Awards, which it will present at its 2023 Entrepreneurs' Gala in March. Representatives of the finalists present at the announcement included, from left, Jeannette Gallant, nominator and aunt of finalists Janine and Janelle Arsenault of Arsenault Family Lumber; Carter Jeffrey and Arnold Smith of the Friends of the Farmers' Bank of Rustico, David Perry, Roger Caissie and Jacinthe Laforest. Pierre Gallant, CCAFLIPE spokesperson, was pleased to congratulate them all.
For more information, please contact
Raymond J. Arsenault
Coordinator
2023 Entrepreneurs' Gala
Acadian and Francophone Chamber of Commerce of PEI
902-960-1285
raymond@rdeeipe.org