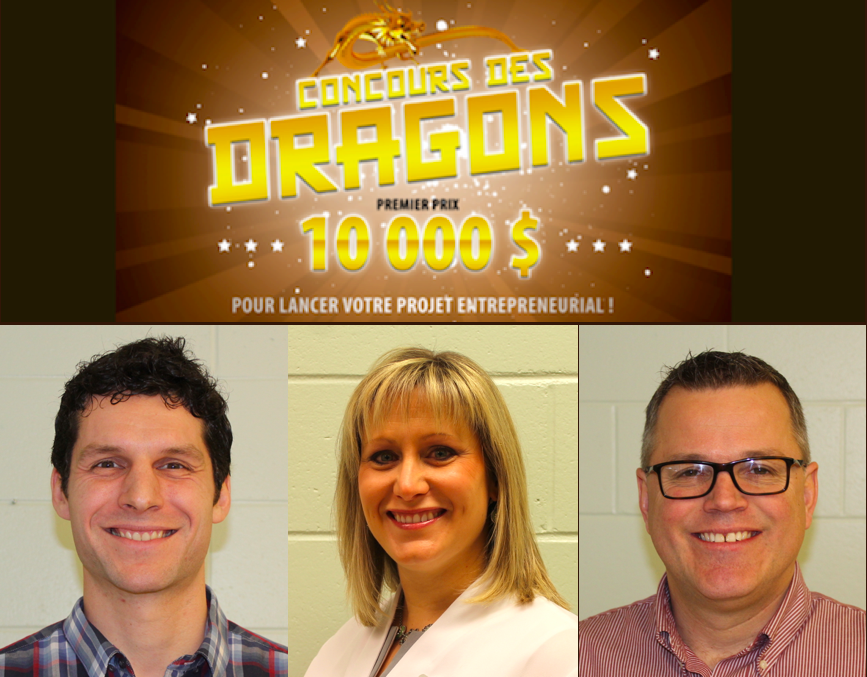 SUMMERSIDE – Feb. 27, 2018 – Three highly motivated and passionate francophone entrepreneurs, all wishing to expand their existing business, have just been chosen as finalists of the 2018 Dragons' Contest. One of these lucky business people will soon take home a $10,000 grand prize.
Stéphanie St-Onge-Cornish of Summerside (who wants to expand her foot-care salon), Gabriel Mercier of North Rustico (who wants to set up a cheese-making operation) and Sylvain Gagné of Charlottetown (who wants to expand his blueberry-producing facilities) will only have seven minutes each to present their business project during the grand finale of the contest. This popular, annual event is being staged Saturday, March 17, at 5 p.m. at the Centre Belle-Alliance in Summerside.
The trio will try to impress the audience but particularly the national panel of experienced business people who'll be evaluating their submissions. After considering the descriptions of the projects, their financial projections and the way that the finalists will have presented their proposal, the judges or « dragons » will determine which project is most ready to proceed and most likely to succeed.
Later in the evening, during the 2018 Entrepreneurs' Gala, the champion will receive a giant $10,000 cheque to invest in his or her project. The winner also gets free memberships to the Acadian, Summerside and Charlottetown Chambers of Commerce.
The public is invited to attend the Dragons' Contest free of charge. But tickets are required to attend the Gala. These are available until March 9 at the Centre Belle-Alliance, at the Wellington Rural Action Centre and at the RDÉE PEI office at the Carrefour in Charlottetown.
FINALISTS AND THEIR PROJECTS
Gabriel Mercier's grandfather was a master cheese maker in Québec who, without a doubt, transmitted his passion to his grandson. Mercier and his wife Deirdre set up Isle-Saint-Jean Farm in North Rustico in 2015, first of all to produce sheep's milk. Their intention had always been to eventually set up their own cheese-making operation. So now is the time! The farmer participated in a number of courses, workshops, symposiums and internships on the production of artisanal cheese, including those offered by the Institut de technologie agroalimentaire du Québec, the University of Wisconsin, the Dairy Sheep Association of North America and BioFoodTech in Charlottetown.
Stéphanie St-Onge-Cornish established Blossom Beauty Care in 2011. More recently, she reoriented her business, now called Blossom Foot Care, to offer specialized foot care services. She provides foot-care advice, educates clients and sells products for the prevention and elimination of foot injuries, specialized socks, etc., to help customers maintain healthy legs and feet. She now needs to expand her workspace. St-Onge-Cornish obtained an esthetics diploma in Quebec in 2002. In 2014, after taking advanced courses from the North American School of Podology, she became a certified podologist (or podiatrist).
Sylvain Gagné established Gagné Blueberries in 2017. His business is geared towards the production of wild blueberries for the fresh market. In the summer of 2017, he perfected his harvesting and processing techniques, which increased the value of his product. In the spring of 2018, the business is in the process of obtaining funding for the expansion of his operations. If everything goes according to plan, Gagné Blueberries should be in intensive operation from mid-August to the third week of September and should require about 30 employees.
CONTEST PROCESS
This year marks the fourth edition of the Dragons' Contest, which is operated by RDÉE Prince Edward Island (the provincial francophone economic development council). The contest is similar to the Dragon's Den TV show. It is open to anyone who can speak French who wishes to establish or expand a business or launch a new product or service.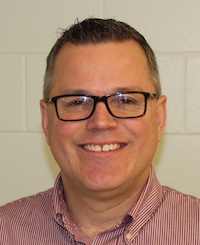 The current edition of the contest was launched last fall. Eleven projects were submitted. Along the way, three contestants pulled out.
The contestants were provided with a full day of training to guide them in the presentation of their project and its financial projections, both from a technical and informational perspective and a body language perspective.
Saturday, Feb. 24, they were required to present their project to a pre-selection panel of judges, made up of Martin Marcoux from the Royal Bank Of Canada (RBC), Patrick Villeneuve from Mermaid Marine Products and Sheila-Mae Muttart from Evangeline-Central Credit Union.
These three first judges were quite impressed with most of the projects they saw but were especially captivated by the projects presented by the three contestants they chose as finalists. They feel that all three have a great chance and probability of attaining business success.
The names of the « dragons » for the grand finale will soon be announced.
-30-
CUTLINE: The finalists of the 2018 Dragons' Contest are Gabriel Mercier, Stéphanie St-Onge-Cornish and Sylvain Gagné. They will present their projects at the contest's grand finale on Saturday, March 17, in Summerside.
For more information:
Velma Robichaud
Coordinator
Dragons' Contest (2018 Edition)
902-854-3439, Ext. 229
velma@rdeeipe.org