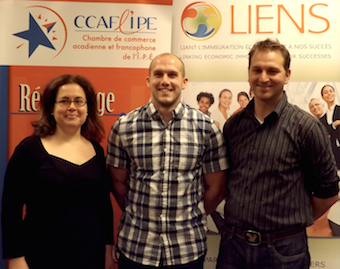 CHARLOTTETOWN – May 21, 2014 – Three young competitor-entrepreneurs have just been selected to participate in the finals of the Dragons' Contest, which will be held May 27 during the banquet of the Forum on Economic Immigration in Brudenell.
These finalists are, from left, Georgina Bassett of Charlottetown (who is developing a incubator center for immigrant entrepreneurs), Miguel Arsenault of Cornwall (who manages a business that measures times for race or marathon runners) and Mathieu Gallant of St. Timothy (who has established a cheese-making plant).
They were chosen during an elimination round of the contest at a « 5 to 8 » reception at the Carrefour de l'Isle-Saint-Jean in Charlottetown May 16. F
ive young adults, aged 18-39, each got 10 minutes to present their entrepreneurial project to a panel of three « dragons ». These judges got to ask questions and comment about each of the projects.
All the participants were given participation gifts or door prizes. The overall winner from the provincial competition will receive a series of other gifts.