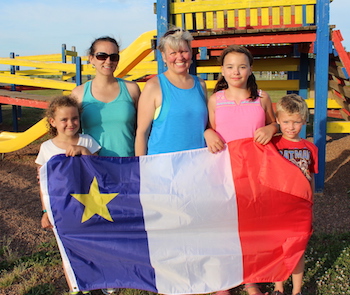 ABRAM-VILLAGE – July 20, 2017 – When Kathleen (Gallant) Couture of Richmond started running about two and a half years ago, it was simply to get in shape so she could keep up with her young granddaughter, who was running everywhere. Today, Couture continues to run to keep healthy and to serve as an example for her children and grandchild.
As well, she wants to contribute to the community she grew up in – and more specifically to raise funds for planned upgrades to the Evangeline School playground.
That's why she and her sister-in-law Jennifer (Arsenault) MacWilliams of Wellington, who have participated in a combined total of about 50 races over the years, came up with the idea of organizing the first-ever Acadian Festival Road Race on the morning of Saturday, Sept. 2.
These two members of the Running Room and the PEI Roadrunners are literally inviting everyone to take part. Even if the event is called a race, people can still walk it or go the distance in a wheelchair or a stroller. All participants will get a participation medal designed specifically for this event while the male and female champions in each age category will receive an engraved version of the medal. (The two ladies organized a ticket raffle, which raised $1,000, to cover the cost of the medals.) Several door prizes will also be presented.
REGISTRATION
The three children's categories are 100 metres for 0-5 years of age, 200 metres for 6-8 years and 500 metres for 9-12 years. Registration is free for these age groups. Their walks/races will start at 9 a.m. at the Evangeline Recreation Centre in Abram-Village.
For the 5-kilometre walk/run, which starts at 10 a.m., the registration fee is $25. « This distance may sound long for people who don't usually participate in runs, but in reality, if you've already shopped in a mall for more than 45 minutes at a time, you've covered more than five kilometres, » says Couture. « All you really need to participate is light clothing and comfortable footwear. »
The 10-kilometre run, which bears a $35 registration fee, is aimed at those who are used to running. It kicks off at 10:15 a.m.
The 5-km and 10-km runs will start at Evangeline Recreation Centre and head out along Route 11 towards Egmont Bay; when participants get to the halfway mark, they'll just turn around and retrace their steps back to the rink. There will be water stations along the way to make sure participants stay hydrated.
To register in person, visit the new blue administration building on the Acadian Festival grounds (accessible from the Cannontown Road driveway). Alternatively, people can register via email at courseacadien@gmail.com or by visiting www.facebook.com/courseacadien.
To encourage greater participation, volunteers will have a registration table at the Wellington Co-op Aug. 19 from 1-4 p.m. and at the Evangeline Recreation Centre Sept. 1, again from 1-4 p.m. Registrations will also be taken the morning of the race from 8:30-9:30 a.m.
All participants must sign an official registration form. Those aged under 18 years will also need the signature of their parent or guardian. Payments will be accepted at the administration office or by email money transfer.
VOLUNTEERS
Even though this is Couture and MacWilliams' first crack at organizing a race, they've had ample opportunity to observe the various tasks that have to be done when organizing this type of event. They therefore know that they will need a fair number of volunteers to make sure the race goes off without a hitch (to tabulate times, to distribute water, to ensure security along the route, etc.) They therefore invite everyone who is not participating in the race to lend a hand. All those interested in volunteering simply have to send an email to the previously mentioned address.
MacWilliams, who has been running for six or seven years, notes that if this « community happy event » turns out to be a success, she and Couture will make it an annual race. Each year, the proceeds would be donated to a local worthy cause, probably always related to children and youth.
So why integrate this run into the Acadian Festival schedule? « We wanted to latch onto an event that already exists, that's already popular and that already has a great ambiance to encourage greater participation, » note the race directors. « We therefore encourage all participants to dress up in Acadian colors to show their cultural pride. »
-30-
PHOTO CUTLINE: The first-ever Acadian Festival Road Race will raise funds for a major upgrade to the Evangeline School playground. Seen preparing for the Sept. 2 event are, from left, young volunteer Abigail MacWilliams, her mother, race co-director Jennifer MacWilliams, co-director Kathleen Couture and her two young close friends, Chloe and Chaz Fraser.
For more information:
Kathleen Couture
Co-director of the Acadian Festival Road Race
1 (902) 439-8555
courseacadien@gmail.com
Jennifer MacWilliams
Co-director of the Acadian Festival Road Race
1 (902) 439-7785
courseacadien@gmail.com