Featuring presentations on PERCÉ program and sales missions to Montreal
SUMMERSIDE – March 6, 2023 – All members of the four Prince County Chambers of Commerce are invited to attend a first-ever free joint business mixer Tuesday, March 21, from 4-6 p.m. in Summerside. Participants will get to network with entrepreneurs and businesspeople from other regions and make contacts that could potentially lead to future collaborations or contracts. In addition, they will receive information on two programs that could support them in their sales and hiring efforts.
The event, which will take place at the new Microtel by Wyndham Hotel on Notre Dame Street (in front of Credit Union Place), is a joint initiative of the Acadian and Francophone Chamber of Commerce of PEI (CCAFLIPE), the Greater Summerside Chamber of Commerce, the West Prince Chamber of Commerce and the Kensington and Area Chamber of Commerce.
During a break in the reception, brief presentations will be made on two initiatives developed and managed by RDÉE Prince Edward Island (the parent organization of the CCAFLIPE) that the organization hopes will benefit the businesspeople in attendance.
Program coordinator Alecia Arsenault will first give a presentation on the PERCÉ program, which provides summer internships of 10 to 12 weeks to 35 Island post-secondary students in their field of study. The goal of the program is to repatriate these Island youth who often study out of province and to help provide workers for Island employers. The program offers a financial incentive to employers who hire these interns.
Mission coordinator Robert Maddix will then give a brief presentation on the sales missions to Montreal that he organizes twice a year for Island businesses that have a bilingual capacity. He will explain how the program reimburses 40 per cent of participants' eligible expenses, provides customized pitch training and coordinates a dozen meetings per participant with potential buyers.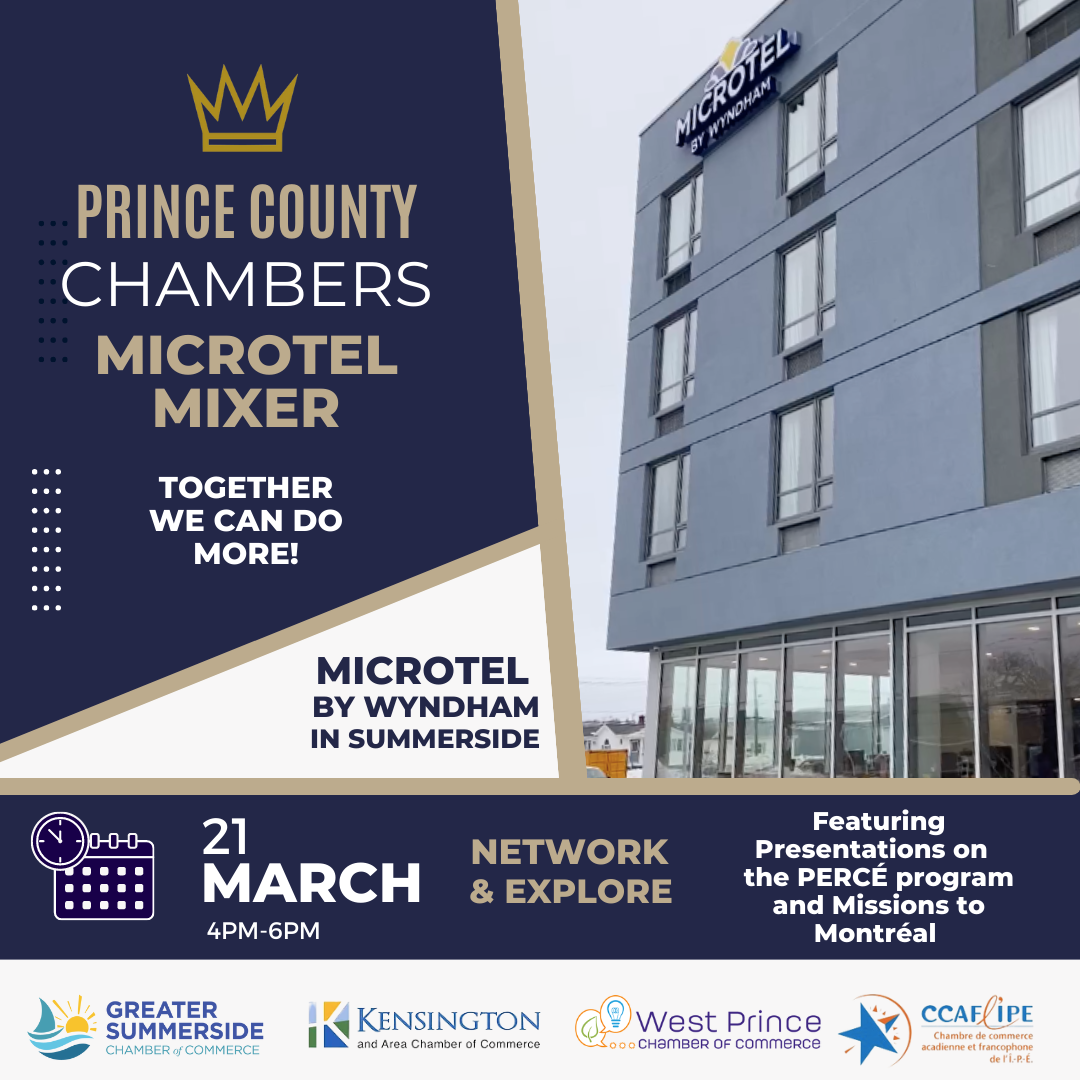 Mixer attendees, who will enjoy delicious complimentary hors d'oeuvres and a social drink at the cash bar, will then be able to meet a host of other businesspeople and expand their networks during a speed-networking session. « Often at events like this, you don't necessarily meet the people who can provide you with services or products you're looking for, but you very often meet people who know such people and can connect you with them, » says Raymond J. Arsenault, CCAFLIPE's event coordinator. « Often in business, it's not just about what you know, but who you know. »
"We are thrilled to be a part of this multi-chamber mixer event, where we can connect and collaborate with our fellow chambers to strengthen our business community and drive economic growth in the region, » adds Kaley O'Brien, executive director of the Greater Summerside Chamber of Commerce.
No registration is required. Chamber members are simply asked to show up at the hotel to participate. Businesspeople interested in becoming members of one (or more) of the Chambers are also welcome to attend to learn about their work. There will be draws for door prizes.
The event is sponsored by RDÉE Prince Edward Island, the Acadian and Francophone Chamber of Commerce of PEI and the Microtel by Wyndham Hotel.
-30-
PHOTOS: Alecia Arsenault will speak about the PERCÉ internship program at the business mixer being organized by the four Prince County Chambers of Commerce on March 21 in Summerside. Robert Maddix will speak about the sales missions he organizes to Montreal twice a year.
For more information, please contact:
Raymond J. Arsenault
Event Coordinator
Acadian and Francophone Chamber of Commerce of PEI
902-960-1285
raymond@rdeeipe.org