ABRAM-VILLAGE – July 18, 2023 – The Evangeline Area Agricultural Exhibition and Acadian Festival always strives to present a good mix of traditional and new activities to its many visitors. Two new facets added to this summer's program are a breathtaking flying dog show and the launch of an Acadian novel with a direct link to the Agricultural Exhibition of a bygone era.
To ensure that everyone can see the magnificent Flying Team dog show, it will be presented five times on the exhibition grounds during the Festival weekend: Friday, Sept. 1, at 3 p.m., Saturday, Sept. 2, at 1 and 3:30 p.m. and Sunday, Sept. 3 ,at 12 and 4 p.m.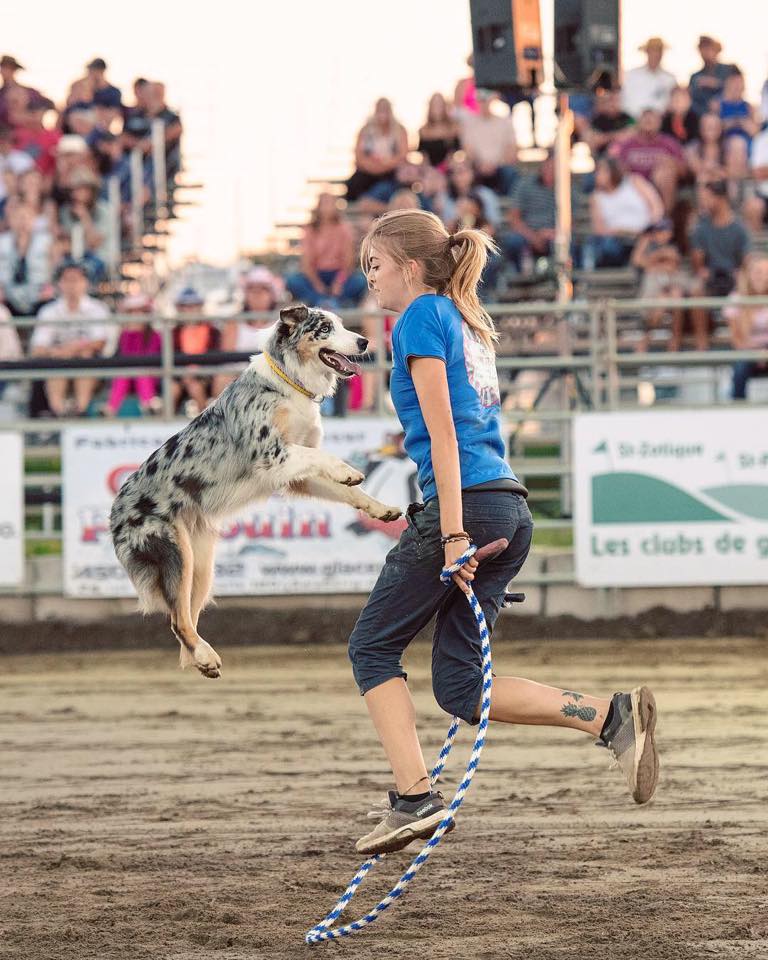 The Flying Team is a Quebec-based team who entertains crowds by showcasing the exceptional talents of their canine partners. « We host action-packed shows featuring some of Quebec's most exceptional canine athletes, » says team management. Audiences can expect to see all kinds of spectacular jumps and skilled tricks: agility, frisbee, canine dance, skipping rope, speed, spectacular jumps, canine skateboarding, comedy tricks and rhythmic choreography to music including obstacles.
The founder of The Flying Team, Émilie Ménard, is both a canine behaviorist and an artist. A 2015 graduate in animal psychology and training, and a multiple canine frisbee champion, she offers canine skills shows and training courses on canine sports and training. Émilie dreams of traveling the world with her canine team to offer their unique shows and captivate people! So far, she's had the opportunity to travel from one end of the country to the other with her beautiful team.
CAROLLE AND HER BOOK
The Agricultural Exhibition and Acadian Festival is delighted to host the official launch of New Brunswick author Carolle Arsenault's new historical novel « Yelle » on Saturday, Sept. 2, at 1:30 p.m. After the launch as well as Sunday, inside the rink, she will then have a booth to meet people, sell her 308-page book, published by Les Éditions de la Francophonie, and autograph it.
She briefly tells us the story of her third novel: « Aoibhe MacLeod grew up in eastern Prince Edward Island in a wealthy family that bequeathed her much wealth, and pride in her Scottish heritage. Despite her small fortune, the woman seems condemned to a sentence that clouds her view of people. An old hand at horses, Aoibhe serves as mistress of ceremonies at trotting parades at the Charlottetown racetrack. It was there that she met and eventually married Félix Arsenault. In those days, when a woman would take a husband, it meant she would also go live in his community. In 1947, after her marriage to this Acadian from Abram-Village, the woman found it difficult to integrate into the community, especially as Alfred, a member of her new family, constantly criticized her. It's impossible to calm this grumpy man, who bellows all his answers. Alfred, too, has had his share of hard times. Will they be able to find some common ground in their past to allow some kind of reconciliation?"
What makes the whole adventure more interesting is that a portion of the fictional plot takes place during a past edition of the Agricultural Exhibition. That's why Arsenault was invited to launch her book during this event. In addition, her husband is originally from Abram-Village; he's Louis Arsenault, son of Felix (The Cat) Arsenault.
The four-day weekend also includes concerts and shows of all kinds, traditional skills contests and competitions, a parade and a little bit of everything to keep people of all ages entertained.
Interested parties can participate in these and dozens of other activities simply by paying admission to the grounds for each day.
-30-
PHOTOS: The dogs from The Flying Team and their handlers get ready to present five shows at the Evangeline Area Agricultural Exhibition and Acadian Festival from Sept. 1 to 3 in Abram-Village.
PHOTOS: New Brunswick's Carolle Arsenault will launch her new novel « Yelle » on Saturday, Sept. 2, at the Evangeline Area Agricultural Exhibition and Acadian Festival.
For more information, contact
Stephanie Arsenault
Agricultural Exhibition and Acadian Festival employee
(902) 854-3517
Nicole Arsenault
Board of Directors Volunteer
Agricultural Exhibition and Acadian Festival
(438) 345-0903