RDÉE PEI extremely pleased with event outcomes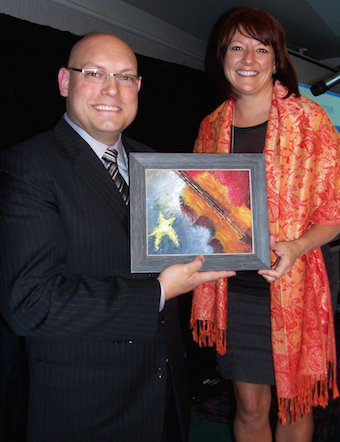 BRUDENELL, PEI – June 4, 2014 – "We feel that our bilingual Forum on Economic Immigration was an undeniable success since we brought together more than 110 people all linked to the economic immigration sector. In this group were about 40 immigrants, including entrepreneurs and stakeholders, who shared, sometimes with emotion, their experiences, their successes, their frustrations and their challenges as they settled in Canada," says Martin Marcoux, president of RDÉE Prince Edward Island.
"Several experts, guest speakers and stakeholders in the area of immigration from all over Canada also participated to offer us wise advice on integrating newcomers into our workplaces," he added.
The forum in question, which took place at Rodd Brudenell River Resort May 26-28, represented a major component of the RDÉE's LIENS project (which means, in French, Linking Economic Immigration to our Successes). The primary objective of the forum was to allow people to share their experiences with the integration of immigrants into the workplace so that others could learn from their successes and challenges.
Among the participants were immigration officers from all the provincial and territorial RDÉEs of Canada, a delegation of French entrepreneurs with the French Chamber of Commerce of Canada, Atlantic Network, as well as entrepreneurs and economic stakeholders mostly from Atlantic Canada. A fair number of participants were born in Europe or Africa.
"Throughout the conference, immigrant participants kept reiterating that the issues being discussed touched them directly and that the comments made by the guest speakers perfectly reflected what they had gone through when adapting to Canadian life," noted Marcoux. "In fact, the participants truly appreciated the talks given by our keynote speakers Matt Adolphe from Alberta and Juan Manuel Toro Lara from New Brunswick. Although their comments were sometimes humorous, these two speakers got us to really reflect on the way we interact and communicate with newcomers. They reminded us that we must communicate more directly, avoid ambiguities and not take for granted that newcomers understand the local way of speaking."
Panelists in the four workshops also initiated great discussions on themes such as best practices, ArtsSmarts, challenges and opportunities faced by immigrant entrepreneurs and integration of newcomers within their host communities.
Finally, participants who got to Brudenell early got a chance to sample "local flavors" along with some local music. The musical showcase presented Tuesday night gave an opportunity to Acadian performers (Caroline Bernard, Rémi Arsenault and Louise Arsenault) to share the stage with the Weslie Band, a reggae trio from Montreal starring Haitian singer Wesley Louissaint.
-30-
CUTLINE: Bonnie Gallant, executive director of RDÉE Prince Edward Island, presents a token of appreciation to keynote speaker Matt Adolphe of Calgary. Later, he signed copies of his book "Canadian Workplace Culture: Mastering the Unspoken Rules" that all participants received as a bonus.
For more information:
Francis Thériault
Coordinator
Forum on Economic Immigration
(902) 370-7333
francis@rdeeipe.org