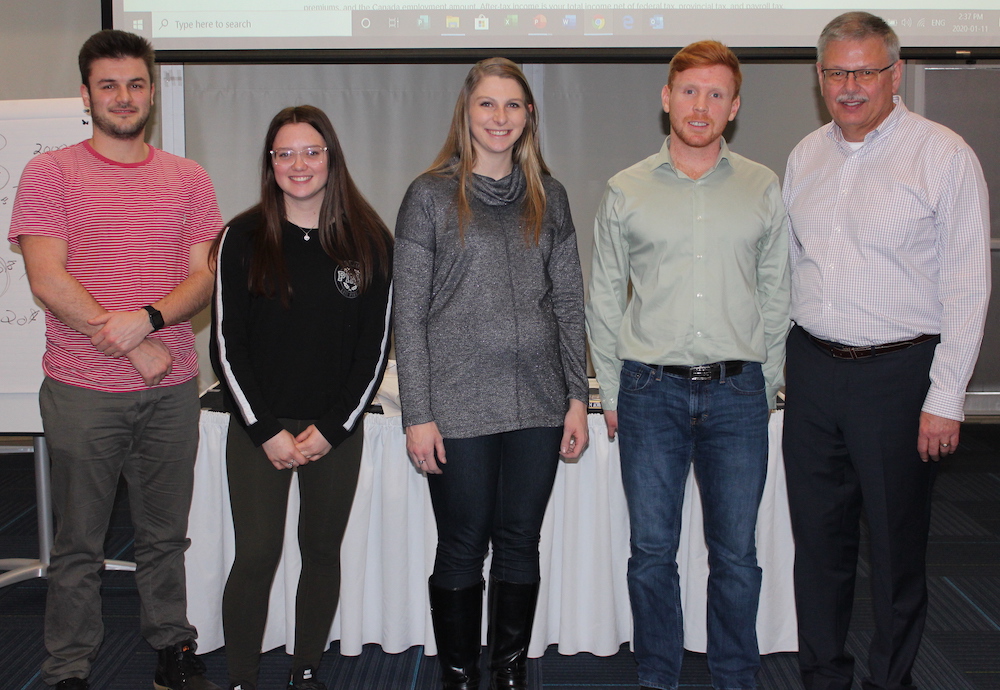 SUMMERSIDE – Jan. 14, 2020 – The teen and adult participants of the "Faut que ça grouille !" program were looking forward to their Jan. 10-11 leadership camp since their schedule said they were supposed to discuss personal and professional finances. Now that the camp is over, they say they were certainly not disappointed since they learned quite a bit.
Their recent gathering began Friday evening with a tour of the community facilities at Credit Union Place in Summerside. They then role-played during a fictional fundraising event.
On Saturday, entrepreneurial finance specialist Ron Robichaud of Kentville, N.S., began his workshop with a presentation on managing personal finances. The youth enjoyed this portion of the day as they learned several things that they can immediately put into practice to better manage their financial situation.
They especially liked the suggestion to create a savings fund with 10 per cent of their income, which will multiply considerably over time. Robichaud's suggestions for managing credit card funds also made a big impact on them.
The second portion of the training focused more on entrepreneurial finances and was more applicable to those who will one day become entrepreneurs. Among other things, they learned how to interpret financial statements and make sound decisions to achieve their financial goals.
Apart from all this, the young people talked about the development, implementation or progress of their citizen engagement project that they are required to establish or support in their own community. Some of the areas their projects will address include mental health, healthy eating, physical activity, identity building and supporting families in need.
Their next camp, to be held in the Charlottetown area March 7-8, will focus on civic engagement.
"Faut que ça grouille !" is a citizen engagement initiative led by RDÉE Prince Edward Island and funded by Employment and Social Development Canada through its Canada Service Corps.
-30-
PHOTO: Four of the participants in the "Faut que ça grouille !" citizen engagement program, from left Sylvain Duguay, Janessa Richard, Maria Carragher-Rayner and Dakota Cameron, are seen with financial trainer Ron Robichaud at the recent FQCG camp in Summerside.
For more details :
Imelda Arsenault
Assistant Coordinator
Faut que ça grouille!
902-439-2933
imarsenault05@gmail.com