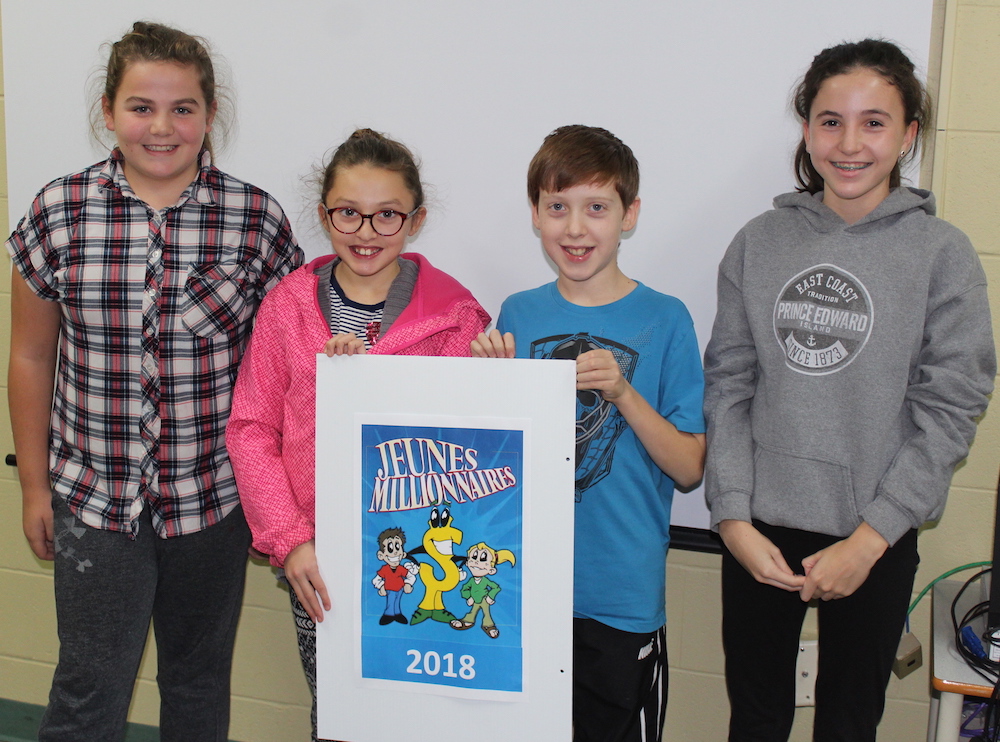 ABRAM-VILLAGE – Nov. 9, 2018 – Great news: the 17 youth who formed 11 small businesses through the Jeunes millionnaires program (francophone edition of Young Millionaires) beat all existing records last summer.
"In 2016, our record year, our 23 youth had sold $15,000 worth of products and had earned profits of $8,000; at that time, we were pretty sure that record was probably unbeatable," says Stéphane Blanchard, the youth economic development officer with RDÉE PEI who supervises the program.
"However, this year, we had six fewer participants, but they sold well over $16,000 worth of products and earned magnificent net profits of about $11,000. We've never seen such great results, so we're extremely pleased with the efforts of these highly motivated youth."
The participants, aged 9 to 16 years, were from the West Prince, Evangeline and Charlottetown areas. They produced and sold treats and food, handcrafts, clothing, jewelry, laundry soap and skin-care products.
At the start of the summer, the youth had the opportunity to attend three workshops to learn the basics of entrepreneurship, including business plans, market studies, customer service, quality control, budgets and other related topics. They then had to present their business plan to program leaders during an individual interview.
Each participant then received a grant (up to $100 for individuals and $150 for partnerships) to help establish his or her business and to purchase production materials. In late June and early July, the youth started producing and selling their products, sometimes with the help of their parents.
The program's coordination team prepared a list of activities, events and festivals where the participating youth can go to sell their products. In addition, the participants also identified supplementary sales locations, often in their own home, neighborhood or community.
This fall, the RDÉE organized a couple of small pizza party celebrations (one in Charlottetown, the other in Summerside) to highlight the accomplishments of the participants before their program peers and parents. They had the opportunity to present little speeches about their summer experiences and adventures.
They took the time to thank their parents who advised them and helped them with their production and who collectively travelled more than 2,200 kilometers to get the Young Millionaires to their sales events. Each youth then received a certificate of participation.
The provincial Jeunes millionnaires program is the French version of the Young Millionaires Program, which is managed provincially by the Central Development Corporation. The program is funded through the Atlantic Canada Opportunities Agency and Innovation PEI.
-30-
CUTLINE: At the recent celebration for the francophone Young Millionaires in Abram-Village are, from left, Taylor Hardy, a partner with the Summer Girls business, Ella Jane Adams from the business "La vie plus facile" (An Easier Life), Colby Arsenault from Blox Bots, and Lydia Arsenault, the second partner with Summer Girls.

For more information:
Stéphane Blanchard
Youth Development Officer
RDÉE Prince Edward Island
902-370-7333, ext. 402
stephane@rdeeipe.org