All French-speaking business people invited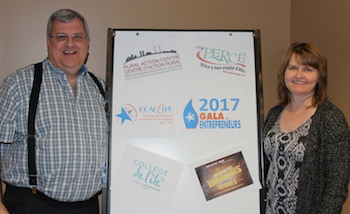 SUMMERSDIDE – Jan. 3, 2017 – All French-speaking and bilingual business people of Prince Edward Island are warmly invited to attend, without cost, one of two Members' Luncheons that are soon being organized by the Acadian and Francophone Chamber of Commerce of PEI to conduct several launchings, unveilings and presentations.
The first luncheon will be held Thursday, Jan. 19, at the Carrefour de l'Isle-Saint-Jean (Bayou 3 Room) in Charlottetown and the second, on Friday, Jan. 20, at the Centre Belle-Alliance (Arsenault-Costa Room) in Summerside. The meal will consist of soup and sandwiches.
"We are collaborating with several partners to organize these luncheon to inform the business community about various projects, programs and initiatives that are coming down the pike in case these entrepreneurs and business people might be able to take advantage of some of these initiatives," says Chamber event coordinator Raymond J. Arsenault. "This mini promotional tour is also a great way to kick off our year and to launch our annual membership campaign."
PROGRAM
The Acadian chamber will unveil the list of finalists for its six entrepreneurial awards and will provide details about its 2017 Entrepreneurs' Gala, which will be held in the spring.
The Chamber and the Wellington Rural Action Centre (RAC) will then jointly unveil their calendar of events for 2017. It includes mores than 20 activities, including a few special celebrations.
The RAC will then give a presentation on its support services for businesses and community organizations.
Next up will be an update on the 2017 Dragons' Contest, being staged once again by RDÉE Prince Edward Island. The contest will award a cash prize of $10,000 to its winner. The contest is open to all French-speaking people who would like to start or expand a business or launch a new product or service.
RDÉE PEI will also launch the recruiting phase of the 2017 edition of its PERCÉ internship program. Several brand-new promotional videos will be launched as a kick-off to the program's 14th edition. These will include testimonials by several former participants.
And finally, the Collège de l'Île (formerly the Collège Acadie Î.-P.-É.) will join the luncheon this year to speak about its new orientations and initiatives.
REGISTRATION
All interested business people are invited to sign up free of charge for one of these luncheons no later than Jan. 16 by contacting Velma Robichaud at (902) 854-3439, Ext. 228, or at velma@rdeeipe.org.
-30-
CUTLINE: Raymond J. Arsenault from the Acadian and Francophone Chamber of Commerce of PEI and Velma Robichaud from the Wellington Rural Action Centre are inviting all French-speaking and bilingual business people to sign up free of charge for the Chamber's Members' Luncheons slated for Jan. 19 in Charlottetown or Jan. 20 in Summerside.
For more information:
Raymond J. Arsenault
Events coordinator
Acadian and Francophone Chamber of Commerce of PEI
(902) 854-3439, Ext. 231
Raymond@rdeeipe.org