Asking public to request services in French and participate in contest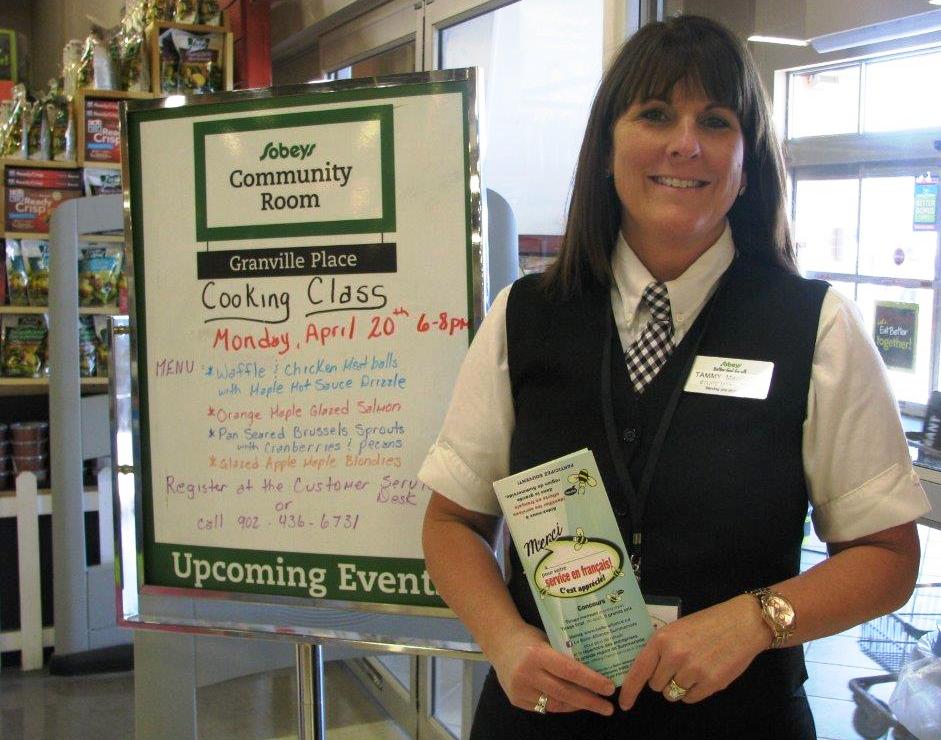 SUMMERSIDE – April 17, 2015 – About 25 Summerside and area businesses recently confirmed that they offer services in both French and English. Now it's time for Islanders and visitors who speak French to ask those businesses to serve them in that language and to recognize the ones that do so.
Hervé Poirier, coordinator of the second phase of the "French: An Added Value" project, explains that the participating businesses have all been given comment cards to distribute to their French-speaking customers. These clients are simply asked to write in the name of the company that served them in French and then express an appreciation of the service they received. These comments will provide great input to the participating companies on how they could maintain, improve or expand their range of services.
If they so desire, those who fill out the cards can also write their own name and contact information on another portion of the cards and then either leave them at the business or drop them off at Centre Belle-Alliance, the Summerside organization hosting the project. They can also note where else they would like to see services available in French or indicate other locations where such services are already offered but not on the list.
MONTHLY DRAWS
Then, once a month in May, June and July, three random draws will be made among all the comment cards received that month. The winners will get a nice prize package, made up of gift certificates from participating merchants and free family passes to numerous community events. A grand prize from all entries will then be drawn for in August; among the top prizes are a $300 tablet and gift certificates. More than $1,000 in prizes will be given away. There is no limit to the number of times one can participate.
The participating businesses (including restaurants, a bakery, gas stations, hotels, a fish mart, a liquor store, bed-and-breakfasts, a hardware store, a farmers' market, a pharmacy, a flower shop, a dentist office, art galleries and museums, a theatre, a book store, a grocery store, a handcraft shop, an office supplies store, banks and hair stylists) are easily identified. All of them have an in-store display advertising their bilingual services; all bilingual employees will also wear a badge saying they speak both languages.
A list of all participating businesses can be obtained at www.belle-alliance.ca, on its Facebook page, or by calling 902-888-1681. The sites can also be consulted for winners' names; comments can also be left on the Facebook page.
"This campaign is all about showing businesses that offering services in French gives them an added value – an additional reason for local people and visitors to shop there," notes Poirier. "Providing services in a second language can actually help improve their bottom line."
The project also gives an opportunity for Island Francophones and those who've learned French as a second language, through immersion classes or otherwise, an occasion to practice their new language in a community atmosphere, Poirier added. He also noted that some 17,000 Islanders speak French.
As well, the timing of this campaign could not have been better as it coincides with the start of the tourist season, when an influx of French-speaking people usually visits the Island.
Any other business wishing to benefit from this campaign is urged to contact Linda Arsenault at the Centre at 902-888-1681.
The "French: An Added Value" project is being organized by La Belle-Alliance (the regional Acadian and francophone organization for the Summerside-Miscouche area), in collaboration with its partners, RDÉE Prince Edward Island, the Coopérative d'intégration francophone de l'Î.-P.-É. and La Voix acadienne. It is funded by Canadian Heritage. Evaluation cards are also available from all of the partners.
-30-
CUTLINE: Sobeys manager Tammy MacPhee is gladly participating in the « French: An Added Value » project for businesses in the Summerside area. She is holding one of the cards that customers can fill out to leave comments and to enter a contest for a variety of prizes.
For more information:
Hervé Poirier
Coordinator
French: An Added Value Project
(902) 621-0057
hhpoirier@hotmail.com