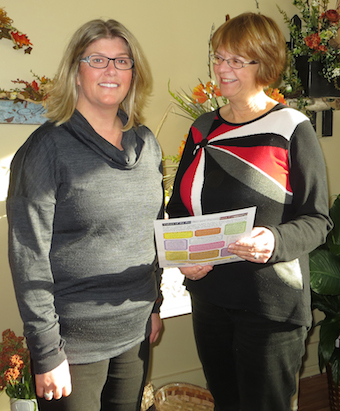 SUMMERSIDE – Feb. 12, 2015 – Summerside area businesses are being shown by a special project that offering and promoting services in French can bring added value to their bottom line.
Project coordinator Réjeanne Arsenault has been hired by La Belle-Alliance, the regional Acadian and francophone organization for the Summerside area, to first compile information about services and products that are offered in French in the Summerside-Miscouche area. She is visiting businesses in several fields – restaurants, lodging, gas stations, stores, organizations and attractions – to inform them about the project and to ask them to fill in a brief survey about the services and products they offer in French.
A second phase of the project will consist of promoting these services to the 17,000 Islanders who speak French (either as a first or second language). La Belle-Alliance will also develop promotional tools to help businesses identify bilingual staff or locations where bilingual services are offered. Other proposed activities designed to support the businesses include promotional campaigns on web sites, Facebook, distribution lists and various media along with contests and methods of public recognition for businesses that participate.
POSITIVE RESPONSE
« So far, the response has been extremely positive; business owners are very open and even enthusiastic about such a project, » says Arsenault. « A number of businesses have bilingual staff but they have never promoted the fact that customers can be served in either French or English. We'll be encouraging them to do so since it could help bring in extra revenue. »
Arsenault added that thousands of French-speaking tourists from Quebec, New Brunswick and elsewhere come to PEI every summer. « They too are always extremely pleased to be served in their own language. »
In addition to encouraging businesses and groups to provide increased bilingual services and products, the project also aims to create a stronger relationship and an increased sense of closeness and solidarity between participating businesses and the Island's French-speaking community.
« When clients or customers feel more welcome in a place of business, they are more likely to stop, stay longer and spend more money. Providing products and services in the customer's preferred language will make them feel more welcome, » the coordinator explains. « When Francophones realize that a business is French-friendly, they will be more inclined to visit these businesses, stay at those accommodations and eat in those restaurants, thereby generating new revenue for the business. Word-of-mouth referrals will also definitely provide more traffic. »
La Belle-Alliance has identified about 60 different businesses in the community that would most benefit from offering bilingual services; in fact, a number of these already do. Any business within the Summerside-Miscouche area not yet contacted that is interested in the project is invited to contact her Arsenault at (902) 854-2254 or rejeannearsenault@hotmail.com to take part in the program free of charge.
-30-
CUTLINE: Réjeanne Arsenault, right, coordinator of the "French: An Added Value" project, is in the process of visiting Summerside businesses to speak to them about the benefits of bilingual services. She is seen with Cindy Robichaud, new owner of Kelly's Flower Shoppe on Water Street. (Photo: La Voix acadienne)
For more information:
Réjeanne Arsenault
Coordinator
« French: An Added Value » project
(902) 854-2254
rejeannearsenault@hotmail.com