SUMMERSIDE – March 18, 2018 – Now backed by the $10,000 championship prize they won during the 2018 Dragons' Contest, cheese makers Gabriel and Deirdre Mercier will soon begin the construction of a sheep cheese production plant on their Isle Saint-Jean Farm in North Rustico.
They graciously accepted their giant cheque from Chris Palmer, provincial minister of Economic Development and Tourism, who was representing the sponsor Innovation PEI.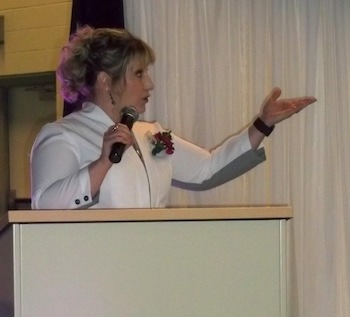 The contest finale was held jointly with the 2018 Acadian Entrepreneurs' Gala Saturday, March 17, at the Centre Belle-Alliance in Summerside.
The winning duo couldn't stop smiling after hearing the decision of the three judges or « dragons » – Alfred Arsenault, general manager of Evangeline-Central Credit Union, Pauline Roy, director of the Centre Assomption de recherche et de développement en entrepreneuriat in Moncton, and Olivier Bertrand, entrepreneur with the companies xoxolo.com, les Druides du Web and Elumicate in Moncton.
The competition at this fourth edition of the contest was quite ferocious since the two other finalists also presented highly valid entrepreneurial projects.
Stéphanie St-Onge-Cornish of Summerside had presented a magnificent project for the expansion of her podology centre, Blossom Foot Care; she even sang an adapted version of a little French traditional song about wear-and-tear on one's feet from walking all the time.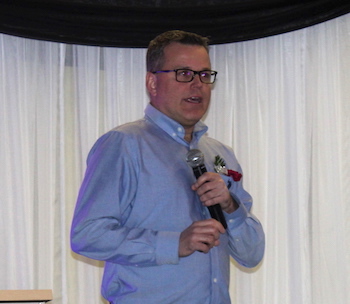 Contestant Sylvain Gagné of Charlottetown presented a great project for the addition of a fresh blueberry processing plant to his Gagné Blueberries operation; he had brought along an old-fashioned blueberry rake and a case of small blueberry containers for demonstration purposes.
All three contestants are already well settled in their communities; they all have well-established clienteles for their products or services. All gave highly animated, seven-minute presentations before the judges and an audience of well over 100 people. The « dragons » could then ask them five minutes' worth of questions.
« After the three magnificent presentations, it was absolutely impossible to predict who the judges were going to pick since all three contestants showed great strengths, as much in their prepared presentations as in their off-the-cuff answers, » said  coordinator Velma Robichaud.
THE CHAMPIONS
Gabriel Mercier's grandfather was a master cheese maker in Quebec who, without a doubt, handed down his passion to his grandson. Mercier and his wife Deirdre therefore set up Isle Saint-Jean Farm in North Rustico in 2015, first of all to start producing sheep milk. Their intention was always to eventually build their own cheese-making plant. In the meantime, they negotiated a deal with Mathieu Gallant's Island Artisan Cheesehouse in Mont-Carmel to use his plant to process their milk into cheese and yogurt.
After gaining a couple of years of experience and having established a solid clientele with a number of high-end restaurants and specialized shops, the dynamic duo developed its construction plans and hopes to build this year.
In his presentation, Mercier explained that sheep milk gives a better cheese yield, compared to cows' milk. It also contains more calcium, vitamins and minerals and is easier to digest. The cheese makers are shooting at both a local and tourism market and more specifically people who are seeking healthier food products.
The products they developed are unique in the Maritimes. Their cheese even won a prize at the Royal Agricultural Winter Fair last year.
In addition to building their new cheese house, the Merciers are looking to increase both their production and sales and to hire additional staff in the short-term. In the long-term, they would like to export and train other producers. Their financial projections also show respectable increases in both sales and profits.
THE CONTEST
The Dragons' Contest, an initiative of RDÉE Prince Edward Island, first offered all contestants some training in Insights Discovery (on knowledge of self and on styles of communication and interaction) and on the pitching of entrepreneurial projects before a panel of judges (presenting financial projections, explaining their project, and using verbal and body language).
The contestants then had the opportunity to present their business proposal to a local panel of judges, who then chose the three would get to compete in the finals.
In addition to the $10,000 investment, the winners receive a free one-year membership to the Summerside and Charlottetown Chambers of Commerce. The three finalists get a free membership to the Acadian and Francophone Chamber of Commerce of PEI.
Major sponsors for the 2018 Dragons' Contest were the Atlantic Canada Opportunities Agency, RDÉE Prince Edward Island, Innovation PEI, the Collège de l'Île, Mermaid Marine Products, HMS Office Supplies and the Cassidy Group.
Secondary sponsors were Wellington Royal Canadian Legion, Wellington Esso and Convenience Store, LP Electronics, les Francofolies de Charlottetown, the Summerside and Charlottetown Chambers of Commerce and the Acadian and Francophone Chamber of Commerce of PEI.
-30-
PHOTO 1: Economic Development and Tourism Minister Chris Palmer, left, presents the $10,000 Dragons' Contest cheque to champions Deirdre and Gabriel Mercier from Isle Saint-Jean Farm in North Rustico, with help from contest coordinator Velma Robichaud March 17 in Summerside.
PHOTO 2: Contestant Stéphanie St-Onge-Cornish presents the expansion project for Blossom Foot Care.
PHOTO 3: Contestant Sylvain Gagné presents the expansion project for Gagné Blueberries.
PHOTO 4 : Champion Gabriel Merci presents his project for the construction of a cheese-making plant at his Isle Saint-Jean Farm in North Rustico.
PHOTO 5: Samples of Mercier's sheep milk cheese and yogurt.
PHOTO 6: The contest judges or « dragons »: Alfred Arsenault, Pauline Roy and Olivier Bertrand.
For more information:
Velma Robichaud
Coordinator, 2018 Dragons' Contest
902-854-3439, Ext. 228
velma@rdeeipe.org