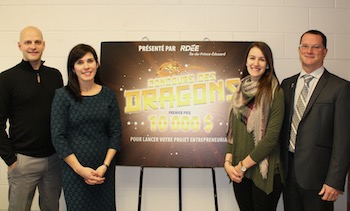 CHARLOTTETOWN – Jan. 13, 2017 – The winner of RDÉE PEI's 2017 Dragons' Contest will win not only a $10,000 cash prize but also a series of gifts to help set up or operate his or her business project.
The gift presenters recently got together in Charlottetown to discuss the event finals, which take place March 18 at the Centre Belle-Alliance in Summerside.
From left are Francis Thériault, owner of PEI Agents Realty, which will provide a personal consultation on improving or creating a business web site; Penny Walsh McGuire, manager of the Greater Charlottetown Chamber of Commerce, which is offering a free one-year membership; contest coordinator Nicole Allain, who graciously accepted the gifts; and Martin Marcoux, spokesman of the Acadian and Francophone Chamber of Commerce of PEI, which is providing free memberships for all three finalists.
The University of Prince Edward Island, not represented in the photo, will also provide a $200 gift certificate to its bookstore.