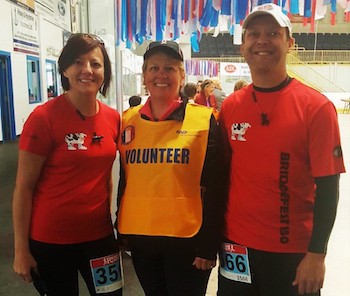 ABRAM-VILLAGE – Sept. 5, 2017 – Organizers of the first-ever Acadian Festival Road Race are extremely pleased with the results of this great fitness event and are already starting to plan for next year's race. Even though it was a bit chilly and that it was raining a few drops, a total of 99 people – including 65 adults and 34 children – walked or ran the course. Usually, for a first-time event, organizers can expect 40-50 people; the Acadian Festival Road Race therefore doubled expectations.
Having also raised about $2,150 for upgrades at the Evangeline School playground, the run took place on the morning of Saturday, Sept. 2, in Abram-Village in conjunction with the Evangeline Area Agricultural Exhibition and Acadian Festival.
Organizers had handed out little cowbells to residents of all homes along the 10 kilometers of the course (from Abram-Village to Egmont Bay); residents rang them to encourage the runners.
RDÉE PEI wishes to heartily congratulate all of the event's volunteers, especially organizers Kathleen (Gallant) Couture and Jennifer (Arsenault) MacWilliams, on a job well done!
PHOTO 1 : RDÉE Prince Edward Island had sponsored the race by purchasing yellow vests for the volunteers. Here, in the middle, organizer Kathleen Couture can be seen with RDÉE executive director Bonnie Gallant and her partner Gérald Arsenault, who completed the 10 km of the race in one hour and four minutes.
PHOTO 2 : On your marks, get set, go! (Photo: La Voix acadienne)