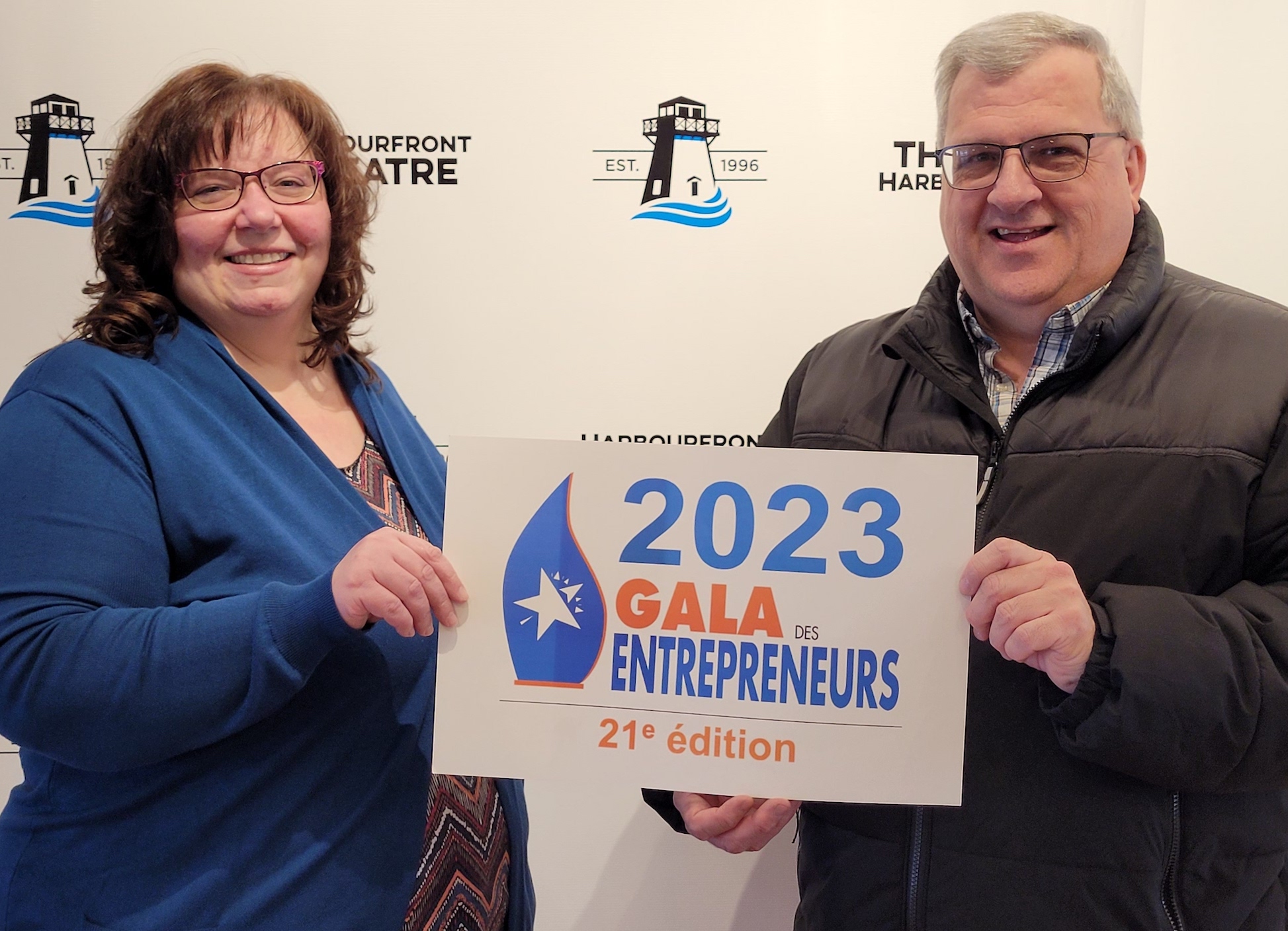 SUMMERSIDE – Feb. 23, 2023 – A lucky participant at the Acadian Entrepreneurs' Gala March 11 will win a pair of free tickets, worth $70, to attend a concert by Nova Scotian singer-songwriter Adam Baldwin, with guest performer Old Man Luedecke, Thursday, April 20, at 8 p.m. at the Harbourfront Theatre in Summerside. Gala coordinator Raymond J. Arsenault recently visited the theatre's executive director Mary Dennis to accept the generously sponsored gift on behalf of the Chamber and to learn more about the show, which is part of the theatre's Harbour Highlight series.
Adam Baldwin has been a mainstay of the Atlantic Canada music scene for over a decade. He started out as a member of the rock combo Gloryhound before joining Matt Mays & El Torpedo in 2009. Baldwin's own music has continued to evolve since his award-winning, self-titled solo debut EP in 2013. In 2016, he released his first full length album No Telling When (Precisely Nineteen Eight-Five) featuring the singles "Daylight" and "Anytime". In 2019 he released the follow up No Rest for the Wicked, including "Salvation" and "Dark Beside the Dawn". In March 2020, with in-person performances impossible due to COVID-19, Baldwin launched his Cross-Country Chin Up concert series, almost every Friday evening on YouTube.
In addition to taking the opportunity every week to connect virtually with fans, he also raised funds for Mental Health Foundation of Nova Scotia, Red Cross Stronger Together Nova Scotia Fund, RCMP Fallen Members' Fund, and the Black Cultural Society for Nova Scotia. The online concert series also produced two digital EPs: Chin Up Sessions (his own songs) and Songs for the Parlour (cover tunes).
All Gala attendees will be eligible to win this prize as well as several other ones, which may be bundled to make bigger prizes.
Tickets for the Gala are on sale at the Wellington Rural Action Centre until March 3, either in person, by phone at 90-854-3439 or by email at josee@rdeeipe.org.