Youth Service Co-op gets to work for summer
ABRAM-VILLAGE – July 4, 2019 – The seven teenaged members of the « Hard Workers » Youth Services Co-op proudly proclaim that they are ready to do all kinds of odd jobs to help the people, organizations, co-operatives and businesses of the Evangeline region this summer.
The co-op's young president, Jackson Arsenault, officially launched the organization's operations for the summer of 2019 during a special ceremony July 3 in Abram-Village. Members' parents and various community guests attended the brief event.
Arsenault said that the co-op's workers can, for example, mow lawns, care for children or pets, wash cars, paint fences, weed small gardens, plant flowers, bring in wood and do housework, all at a reasonable rate.
Adding that his team is "very excited" to be able to offer these services to the community, Arsenault symbolically cut a lath with a handsaw, rather than follow the tradition of cutting a ribbon.
The "Hard Workers", who are all bilingual and aged 12 and 13 years, are now looking for contracts, either for short periods of a few hours, a few days or even a few weeks. Work orders are already starting to come in. In addition, in their less busy times, the young workers plan to build and sell wooden products such as bird houses, decorative plaques and park benches, some painted in Acadian colors. These products will be sold mainly during various activities surrounding the 2019 Congrès mondial acadien. People from the community will also have the opportunity to order some of these products.
Job contracts given to the co-op will give the young members an opportunity to take on responsibilities, gain work experience and earn some spending money.
Those wishing to obtain a free estimate or place a work order are asked to call 902-854-3439, Ext. 228, Monday to Friday between 8 a.m. and 4 p.m. Alternatively, people can send an email to coordinators Frédérique Guillemette (frederique@rdeeipe.org) or Stéphanie Arsenault (stephanie@rdeeipe.org).
TRAINING
Once again, this year, members of the supervision and coordination team had the opportunity to participate in a week of training on setting up and managing youth service co-operatives in Shippagan, N.B. The training, which was designed by the umbrella organization La Fabrique entrepreneuriale du Québec (covering about 150 youth co-ops), was delivered in the Atlantic region by the Coopérative de développement régional (CDR) Acadie. In fact, Elaine Roussel, coordinator of Atlantic youth service co-operatives with the CDR-Acadie, participated in the official launch July 3 in Abram-Village.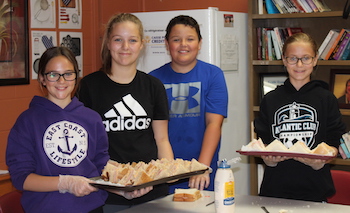 RDÉE Prince Edward Island, which manages the youth services co-op, and coordinators Frédérique Guillemette and Stéphanie Arsenault recruited worker-members. The young members were then given training on how to manage a board of directors and a youth workers' co-op. Stéphane Blanchard, RDÉE PEI's youth development officer, pointed out that the co-op seeks to prepare a new generation of volunteers for the local co-operative movement.
At their first board meeting, the young members elected an executive committee: president Jackson (Marc) Arsenault, vice-president Annie-Pier Morency, secretary Danika Richard and treasurer Gabrielle Gallant. These four, along with the other three workers – Jackson (Jamie) Arsenault, Briley Cameron and Ramsay Gallant – also formed marketing, human resources and finance subcommittees.
The co-op will retain a portion of their income to pay for its expenses. At the end of the season, the members will decide whether to set aside a portion of their profits to start the co-op next summer, to distribute a rebate to members based on the number of hours worked or to organize a group recreational activity.
Thanks to a special arrangement with the PEI French Language School Board and the Conseil scolaire-communautaire Évangéline, the co-op uses the Evangeline School's carpentry workshop as a home base for meetings and construction projects.
-30-
CUTLINE MAIN PHOTO : Cutting a symbolic lath to officially launch the operations of The Hard Workers Youth Service Co-op July 3 in Abram-Village, are, from the left, coordinator Frédérique Guillemette, treasurer Gabrielle Gallant, president Jackson Arsenault, vice-president Annie-Pier Morency, Elaine Roussel of the CDR-Acadie and second coordinator Stéphanie Arsenault.

For more information:
Stéphane Blanchard
Youth Development Officer
RDÉE Prince Edward Island
(902) 370-7333, Ext. 402
stephane@rdeeipe.org