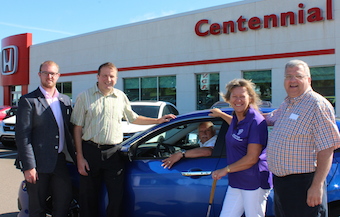 NEW GLASGOW – Aug. 16, 2016 – All golfers participating in the 11th Annual Acadian Golf Tournament in New Glasgow Sept. 11 will get a chance to win $30,000 towards the purchase of a vehicle from Centennial Honda in Summerside – if they get a hole-in-one at a predetermined hole on the Glasgow Hills course.
Last year, one of the players came within three feet from the magic hole. It is therefore quite possible to win this contest, which is offered jointly, for a second consecutive year, by Centennial Honda and Mike Bradley Insurance Services Ltd. (The Co-operators).
In the photo, from left, are Jeff McKenna, sales manager at Centennial; Mike Bradley from the insurance company; Gerald Arsenault, bilingual sales representative with Centennial; and tournament organizers Jeannette Gallant, coordinator of the PEI Regional Committee of Les Jeux de l'Acadie, and Raymond J. Arsenault, coordinator of the Acadian and Francophone Chamber of Commerce of PEI.
The tournament is a fundraiser for the Regional Committee to help ensure that the PEI delegation of young athletes can participate in next year's Jeux de l'Acadie finals.
The registration fee this year is $85 per person or $340 per foursome. To register, contact Jeannette Gallant at (902) 854-7435 or at jeannettegallant@gov.pe.ca. $100 hole sponsors are also being sought.