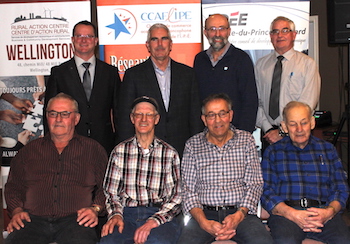 WELLINGTON – Nov. 29, 2017 – Wishing to recognize the enormous contribution that Island francophone farmers make to the local and provincial economy, the Acadian and Francophone Chamber of Commerce of PEI organized a special recognition luncheon specifically for them Wednesday, Nov. 29, in Abram-Village.
The 21 farmers from the Charlottetown, Summerside and Evangeline regions who participated in the celebration each received a nice certificate of recognition as their biography was presented to the 62 people in attendance. Seven other farmers who were unable to attend will also receive certificaates.
Each in turn, the organizers and sponsors of the ceremony offered heaps of praise onto the farmers and their families, focusing primarily on their unrelenting efforts and their economic contributions.
RDÉE Prince Edward Island president Martin Marcoux stressed the fact that farmers are tremendous workers. "One thing is for certain: you, the farmers, are people who aren't afraid of work. You never count your hours; you start your day before the rooster crows and you finish your day shortly before he crows again! And if that wasn't enough, most of you have no idea what it means to take a vacation."
MAJOR SECTOR
He also noted that the number of commercial farms on PEI is continually decreasing but that each farm that remains is getting bigger. Similarly, farm revenues keep going up; the industry is therefore maintaining its spot as one of the main sectors in the Island economy.
The event's host, Chamber coordinator Raymond J. Arsenault, noted that farmers not only create jobs but also generate lots of economic activity for their communities as they spend considerable amounts of their agricultural supplies. They also spend their income at the businesses of all kinds of local merchants.
A few of the farmers and all of the sponsors present officially thanked the Acadian Chamber for organizing this celebration since farmers work extremely hard, often away from the eyes of the public and most often not recognized for their vast contributions.
The presentation of certificates was carried out by the number of years of agricultural experience, starting with the lower numbers: less than 40 years, 40 to 49 years, 50 to 59 years and 60 years and over. The farmer with the most seniority, Léo S. Arsenault, was recognized for 72 years of work on the farm! In all, the farmers present had a combined total of more than 1,000 years of agricultural experience.
The luncheon's sponsors, in addition to the Acadian Chamber, were: RDÉE PEI, the Wellington Rural Action Centre, the PEI Department of Agriculture and Fisheries, ADL, PEI Federation of Agriculture, Cavendish Farms, Farm Credit Corporation, PEI Potato Board, PEI Cattle Producers, PEI Agriculture Sector Council and Dairy Farmers of PEI.
-30-
CUTLINE 1 : Among the farmers honored during the Francophone Farmers' Luncheon Nov. 29 in Abram-Village, were, seated from left, Alfred Arsenault (60 years +), Melvin Gallant (65 years), Julien Bernard (57 years) and Léo S. Arsenault (72 years). In the back row, in the same order, are Martin Marcoux, board member of the Acadian and Francophone Chamber of Commerce and president of RDÉE PEI, along with representatives of three sponsors: John Jamieson, deputy minister of Agriculture and Fisheries, Ron Maynard, second vice-president of the PEI Federation of Agriculture, and Jim Bradley, CEO of ADL.
CUTLINE 2 : Léo S. Arsenault accepts his certificate for 72 years of farming from Chamber representative Martin Marcoux, left, and John Jamieson, deputy minister of Agriculture and Fisheries.
For more information:
Raymond J. Arsenault
Coordinator
Acadian and Francophone Chamber of Commerce of PEI
902-854-3439, ext. 231
raymond@rdeeipe.org