Business awards competition to also be launched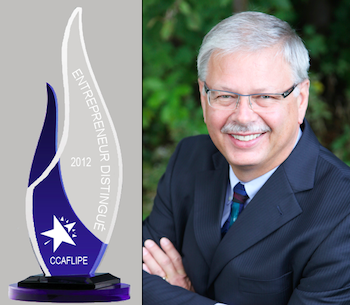 SUMMERSIDE – Sept. 23, 2017 – As more and more small « Mom-and-Pop » businesses desperately struggle to survive in the modern big-box store context, the Acadian and Francophone Chamber of Commerce of PEI wants to give local businesses some practical tips on how to avoid being swallowed up whole.
« We're overjoyed to announce that we've retained the services of entrepreneurial specialist Ron Robichaud, from C&R Care and Consulting of Kentville, NS, to share his recipe for business success with a keynote talk entitled How To Become More Competitive in Today's Business World," says Chamber coordinator Raymond J. Arsenault.
His speech will be delivered during the 2017 Entrepreneurs' and Co-operators' Luncheon at the Centre Belle-Alliance in Summerside, Tuesday, Oct. 17, starting at 12 noon. All French-speaking entrepreneurs and co-operators are invited to attend this free luncheon organized on the occasion of Co-op and Small Business Week.
GURU
"We've had the opportunity of working with Robichaud several times over the years, both as a speaker and a trainer. We consider him to be one of the top entrepreneurial gurus in Atlantic Canada," adds the coordinator.
The Chamber will first of all launch its annual entrepreneurial awards contest. This competition aims to reward seven entrepreneurs, businesses/organizations and individuals who have greatly contributed to the local and provincial economy.
Next on the agenda will be the guest speaker's 45-minute talk. Robichaud has more than 30 years of business experience as well as several years as a business counselor for a CBDC. He has also taught small business management courses at Sainte-Anne and Acadia universities. He has served as president of the Canadian Council for Small Business and Entrepreneurship and of the International Professional Standards Committee for APEC-IBIZ, an internationally recognized program that certifies Small Business Counsellors around the world.
PROFITABILITY
« Naturally, you're aware that your business essentially needs profit to succeed. But stunningly, most entrepreneurs seem content with extremely modest profits, often of less than 2%, » notes Robichaud.
« Come out and increase your knowledge by using very simple methods. You will discover practical and efficient methods to attain the full potential of your business. You'll hear and see unique strategies that will certainly help create a positive transition in the management and success of your business. »
The event will conclude with draws for door prizes.
The registration deadline is Oct. 11. Those interested must contact Velma Robichaud at (902) 854-3439, Ext. 228, or velma@rdeeipe.org.
This event is being presented jointly by the Acadian Chamber, CBDC Central PEI, RDÉE Prince Edward Island and the Wellington Rural Action Centre.
-30-
CUTLINE: Ron Robichaud, business development specialist with C&R Care and Consulting from Kentville, NS, will be the guest speaker at the Entrepreneurs' and Co-operators' Luncheon Oct. 17 in Summerside.
For more information:
Raymond J. Arsenault
Coordinator
Acadian and Francophone Chamber of Commerce of PEI
902-854-3439, Ext. 231
raymond@rdeeipe.org