Nominations deadline Nov. 27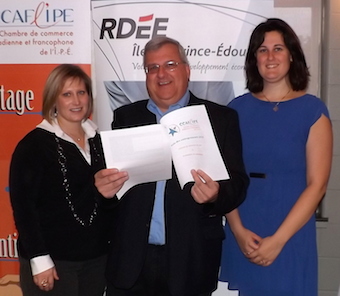 SUMMERSIDE – Oct. 23, 2015 – The Acadian and Francophone Chamber of Commerce of PEI (CCAFLIPE) has just added a new category to its annual awards competition: the Francophone Immigrant Entrepreneur Award.
The Chamber launched its 2016 awards competition Thursday, Oct. 22, during its Morning Conference for Entrepreneurs and Co-operators in Summerside. It's officially inviting its members and the public to submit nominations for its six awards no later than the Nov. 27 closing date.
The new award has been added to the roster after managers of RDÉE Prince Edward Island's LIENS Project (Linking Economic Immigration to Our Successes) suggested the creation of new award that it offered to sponsor. During Thursday's launching, LIENS coordinator Catherine Rioux explained that the award seeks to recognize a francophone immigrant entrepreneur who has at least two years of experience as of March 12, 2016, and who is recognized for his or her accomplishments and business spirit, especially over the past year.
She noted that every week, she and her colleagues get to meet and work with more and more Francophone (and usually multilingual) immigrant entrepreneurs from all over the world. "They do excellent work, produce great products and contribute significantly to the Island economy. It is therefore time to start recognizing their valuable contributions," she added.
Chamber coordinator Raymond J. Arsenault then presented a list of the other five awards that are being offered and that will be presented next March during the Entrepreneurs' Gala. He reiterated that the competition is specifically designed to honour entrepreneurs, businesses and co-operatives that have distinguished themselves by the great quality of their products and services and for their contributions to the local and provincial economy.
CATEGORIES
The five other award categories are:
2016 Enterprising Youth of the Year Award for a person aged 25 years or younger, as of March 12, 2016, who must have shown impressive entrepreneurial and/or community involvement, especially during the past year;
2016 Co-op of the Year Award for a co-operative that has stood out for its accomplishments and successes, including its impact on the community, especially during the past year;
2016 Business Woman of the Year Award for a business woman or female entrepreneur who has at least five years of experience and who deserves recognition for outstanding accomplishments and business spirit, especially over the past year;
2016 Distinguished Entrepreneur Award for a person with at least 25 years of entrepreneurial experience, either retired or still working, who has distinguished himself/herself for efforts and accomplishments throughout his/her career (lifetime achievement award);
2016 President's Award of Excellence for a business that has stood out by showing excellence, especially over the past year, in one or more of the following categories: innovation, quality of service, job creation, greening effort and community impact.
Arsenault adds that at least one of the owners, co-owners or managers of the nominated businesses or co-ops must be able to speak in French since these awards are geared specifically to recognize the contribution of Francophones to the Island economy. In addition, the nominated person, business or co-op must not have won an Acadian Chamber award in that particular category for the past three years.
"Anyone may submit a nomination, but you have to obtain the permission of the person, business or co-op before you nominate them," adds the coordinator. "We're also inviting businesses to nominate themselves. Of course, when a business wins, it gets a lot of free promotion in newspapers and in social media, which is always great for business."
The nomination form (in French only) can be downloaded from the web site www.rdeeipe.net, under the « Documentation » menu heading.  When the form is filled out, it must be sent to the Chamber no later than Nov. 27, 2015, either by email to raymond@rdeeipe.org or by mail to Jury de sélection, RDÉE PEI Inc., 48 Mill Road, P.O. Box 7, Wellington, PEI, C0B 2E0.
-30-
CUTLINE:  During the launching of the Acadian and Francophone Chamber of Commerce entrepreneurial awards campaign, Thursday in Summerside, coordinator Raymond J. Arsenault discusses the awards categories, including the new Immigrant Entrepreneur Award, with entrepreneur Stéphanie St-Onge from Blossom Beauty Care, left, and Catherine Rioux, LIENS project coordinator. LIENS will be sponsoring the new award.
For more information:
Raymond J. Arsenault
Coordinator
Acadian and Francophone Chamber of Commerce of PEI
(902) 854-3439, ext. 231
raymond@rdeeipe.org