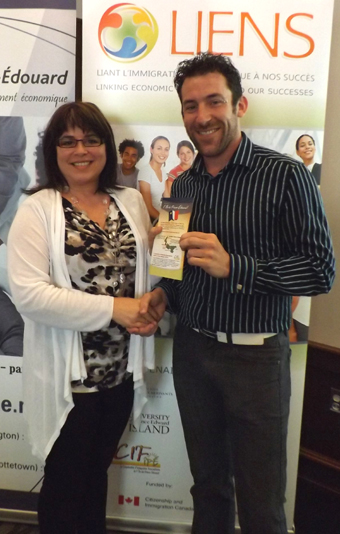 CHARLOTTETOWN, PEI – May 10, 2013 – From now on, all immigrants and other newcomers arriving on PEI will receive a welcome pamphlet describing key services available in French on PEI. This pamphlet will be inserted into the PEI Newcomers Guide that the province and other welcoming partners provide to new Islanders.
Developed through RDÉE Prince Edward Island's LIENS project (which stands for Linking Economic Immigration to Our Successes), the insert is obviously aimed at newcomers who read, speak or understand French, explained Christian Gallant, RDÉE development officer responsible for the Immigration sector, during a launching ceremony Friday, May 10, in Charlottetown.
Specifically, the pamphlet is meant to help meet informational needs that newcomers require in regards to work, entrepreneurship, education, health and culture in the first few months here, he said.
The leaflet provides an overview of the six Acadian and francophone regions of PEI and describes several institutions and organizations that offer French or bilingual services, namely: the Coopérative d'intégration francophone de l'Î.-P.-É., the French Language School Board, the Fédération des parents de l'Î.-P.-É., the Collège Acadie Î.-P.-É, St. Anne University's Charlottetown campus, RDÉE Prince Edward Island, La Voie de l'emploi employment newspaper, la Société Saint-Thomas-d'Aquin and the Réseau des services de santé en français à l'Î.-P.-É.
The pamphlet and its preparation were funded by Citizenship and Immigration Canada.
-30-
CUTLINE: Christian Gallant, RDÉE development officer in charge of the Immigration sector, presents the first copy of the French insert for the PEI Newcomers Guide to Angie Cormier, settlement, integration and recruitment officer for PEI's Immigration Services.
For more information:
Christian Gallant
Development officer responsible for the Immigration sector
RDÉE Prince Edward Island
(902) 370-7333