SUMMERSIDE – March 14, 2015 – Teenaged entrepreneur Joël Gallant of Mont-Carmel has just been named the winner of the francophone edition of the 2014 Young Millionaires Award, given out by RDÉE Prince Edward Island, for the efforts and accomplishments of his business Sticky Creations last summer as he participated in the Young Millionaires Program.
The young man received his award Saturday, March 14, in Summerside during the 2015 Acadian Entrepreneurs' Gala, organized by the Acadian and Francophone Chamber of Commerce of PEI. Martin Marcoux, representing award sponsor RDÉE Canada, presented the award.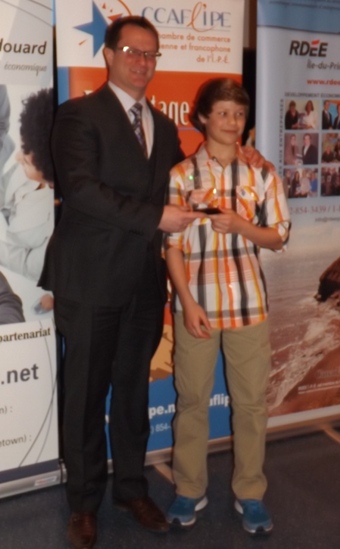 Joël was inspired by videos seen on YouTube to develop his main products: wallets and change purses made with duct tape of various colors and patterns. For example, some are in solid neon colors while others can be in camouflage and still others can bear the emblem of a favorite hockey team. His wallets are available in two models: the first is simple, with two sections, while the other has a series of pockets for credit cards or pictures. His business also produced bracelets and roses.
During the summer, he participated in number of group activities at major sales locations: on Acadian National Holiday at the 2014 PEI Celebrations grounds in Charlottetown, the Lobster Festival in Summerside, a biathlon in Rustico and the Acadian Festival in Abram-Village.
At the end of the summer, his sales totaled about $500. His program supervisor notes that Joël's success can be attributed not only to the quality of his products but also to his excellent customer service along with his great motivation and devotion.
The Young Millionaires Program, funded by the Atlantic Canada Opportunities Agency and Innovation PEI, seeks to stimulate the business sense and the entrepreneurial spirit among youth aged 8-16. Participants participate in a series of training sessions to acquire elementary business skills in bookkeeping, marketing, sales, customer service and public speaking. Once the workshops are completed, the youth submit a business plan and receive a grant of $100 for individuals and $150 for partnerships to help them get their summer business off the ground.
The Central Development Corporation (CDC) manages the program provincially; various organizations help deliver the program in various regions of the Island. For 15 years now, RDÉE PEI has been coordinating the French edition of the provincial program. Last year, the RDÉE guided the establishment of 12 small businesses in the Evangeline, Charlottetown and Souris areas.
-30-
CUTLINE 1: Joël Gallant has just won the 2014 Young Millionaires Award for the great efforts he put into his business Sticky Creations last summer.
CUTLINE 2: Joël Gallant, owner of the summer business Sticky Creations, accepts the 2014 Young Millionaires Award from Martin Marcoux, board member of RDÉE Canada, the organization that is sponsoring the award this year.
For more information:
Stéphane Blanchard
Youth Economic Development Officer
RDÉE Prince Edward Island
(902) 370-7333, Ext. 402
stephane@rdeeipe.org