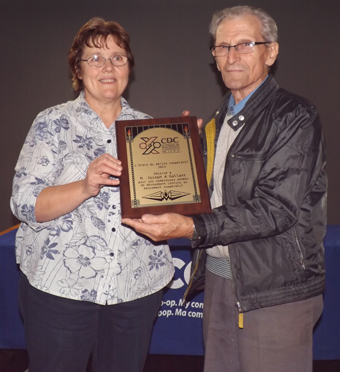 WELLINGTON, PEI – Oct. 23, 2013 – A great co-operator who appears to have "a museum of co-ops in his head" has just been named recipient of the 2013 Co-op Order of Merit.
It was during the Let's Make a Deal games night on Oct. 18 in Wellington that the Conseil de développement coopératif de l'Î.-P.-É. (CDC – the provincial francophone co-op council) presented the distinction to Wellington's own Joseph A. Gallant, who is often known by the nickname "Joe à Hélène". (His late wife Hélène Gallant was renowned rug hooker.)
The 91-year-old Joseph, who lives at Le Chez-Nous community care centre, was described as "one of the most convinced people in regards to the value of the co-operative formula". He is in fact a member of most of the Evangeline area's co-ops.
According to CDC president Angele Arsenault, the award winner actually saw the birth of most of the community's major co-operatives. He retains countless historic facts about all of these and can rhyme them off without problem.
The Acadian Museum of PEI presented him its "La Petite Nyctale" award for his enormous contribution to the community.
He even had the opportunity, as a young man, to take a few courses delivered by the one and only Dr. Moase Coady, the great promoter of the co-op movement who encouraged Islanders to follow the example set by Nova Scotia and to take their destiny into their own hands by forming co-ops.
The president mentioned that Joseph just can't seem to understand why certain members fail to support their own co-ops. She quoted him as saying, "Why should be put our money into the pockets of rich business owners? Do you really think they care about us?"
Gallant remains extremely active. He still drives his car and is always ready to help the other residents of Le Chez-Nous and to acknowledge their birthdays.
"Joe has a great philosophy of life and has a great sense of humour," she said. "Never miss an opportunity to have a chat with Joe. He is always ready to share the huge amount of knowledge that he has."
As he accepted his award, Gallant shared a few stories about his childhood.
-30-
CUTLINE: Angele Arsenault, president of the Conseil de développement coopératif de l'Î.-P.-É., presents the 2013 Co-op Order of Merit to Joseph A. Gallant of Wellington.
For more information:
Angele Arsenault
President
Conseil de développement coopératif de l'Î.-P.-É.
(902) 854-2951