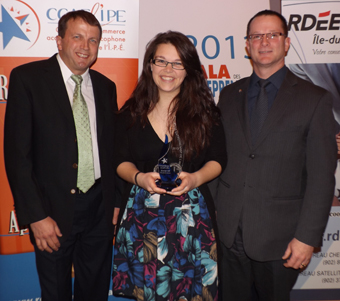 SUMMERSIDE, PEI – March 17, 2013 – A 17-year-old Charlottetown youth, who is already involved in organizations at the regional, provincial and Atlantic levels has just been named the 2013 Enterprising Youth of the Year.
The Acadian and Francophone Chamber of Commerce of PEI bestowed this honor upon the energetic Katelyn Gill, daughter of Bobby and Joyce Gill of Charlottetown, during the 2013 Entrepreneurs' Gala on March 16 in Summerside. This award, sponsored by The Co-operators (Mike Bradley Insurance Services), is presented to a youth aged 25 years or less who has shown impressive involvement and initiative either in entrepreneurship or in the community, particularly in the past year.
The Chamber feels Katelyn – the first girl to ever win this award – superbly fills the community involvement criteria. In fact, Katelyn in considered an exemplary young leader. She is currently vice-president of the board of directors of Jeunesse Acadienne (the Acadian youth association) and has been on its board since 2009.
This young lady often represents the interests of PEI's Acadian and francophone youth and of her community. Since her involvement with Jeunesse Acadienne, she has succeeded in motivating Charlottetown youth in making a greater commitment and in getting more involved in the organization's youth activities.
Katelyn also sits on the board of directors of the Société Saint-Thomas-d'Aquin and the Société Nationale de l'Acadie, the PEI Regional Committee of the Jeux de l'Acadie and the École François-Buote Student Council.
This young lady has always been able to impress others by her devotion to and interest in the French language and youth. She has participated in numerous forums, conferences as well as cultural and sporting events as an ambassador for PEI youth. In addition to all of that, she has been teaching private music lessons in violin and piano for the past four years. She has also worked at Gencheff Camp in Tea Hill.
Katelyn will be completing her Grade 12 studies at École François-Buote in June. This fall, she will attend University of Moncton to obtain her bachelors of education degree.
Other finalists in the category were Ginette Arsenault of Mont-Carmel and Rowen Gallant of Rustico.
-30-
CUTLINE 1: Sponsor Mike Bradley, left, from Mike Bradley Insurance Services Ltd. (The Co-operators), and Martin Marcoux, a member of the Acadian Chamber's board, proudly presented the 2013 Enterprising Youth of the Year Award Katelyn Gill of Charlottetown.
CUTLINE 2: Brian Gallant, a RDÉE PEI board member and representative of Jeunesse Acadienne, presents a finalist certificate for Ginette Arsenault to her aunt and godmother, Zita Arsenault.
CUTLINE 3: Simonne Pineau accepts a finalist certificate for Rowen Gallant from Brian Gallant, a RDÉE PEI board member and representative of Jeunesse Acadienne.
For more information:
Raymond J. Arsenault
Co-ordinator
2013 Entrepreneurs' Gala
(902) 854-3665