Competition deadline is Jan. 31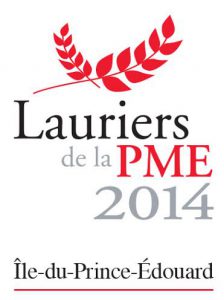 WELLINGTON, PEI – Jan. 24, 2013 – Those wishing to nominate a francophone or bilingual business or co-op for the 2014 Lauriers de la PME entrepreneurial awards only have a few days left to do so since the competition's deadline is Jan. 31.
« Truth be told, we've so far only received a handful of nominations. However, there are dozens and dozens of qualifying businesses on PEI that certainly deserve our five awards because they deliver exceptional services. But they won't win is nobody nominates them, » says Raymond J. Arsenault, who is coordinating the competition for RDÉE Prince Edward Island and the Acadian and Francophone Chamber of Commerce of PEI.
« All francophone and bilingual businesses that have never won a national Lauriers de la PME award are eligible, even those who've won our other entrepreneurial awards over the years, » he explains.
Arsenault is therefore imploring people to immediately nominate businesses so that the Chamber can have an actual competition for these awards. All that one must do is fill out a short nomination form with one's contact information as well as the nominated business' contact information. A one-page business profile must accompany the nomination; it should explain the company's accomplishments and contributions along with the reasons why it is being nominated. Obviously, the profile must show how the company values the French language in its affairs.
« Businesses are also welcomed to nominate themselves, » adds the coordinator. « Or, if they prefer, an employee or a family member can submit the nomination. »
This year's categories are Processing Business, Service Business, Retail Business, Micro-Business and Young Entrepreneur. To qualify for the first four categories, businesses must have been in business for at least three years; those in the Young Entrepreneurs category must be in business for at least one year.
A provincial jury will examine all the submissions and pick a provincial winner in each of the five categories. The winners will be honored during the Acadian Entrepreneurs' Gala March 15 in Summerside.
PEI will then nominate its five provincial winners to the national contest. A Canadian jury will sort through the nominations received from all provinces and territories to come up with three or four national finalists in each category. Only these finalists will be invited to the national Lauriers Gala to be held next November in Moncton, N.B.
To submit a nomination, one only has to download the provincial nomination form from the RDÉE PEI website at www.rdeeipe.net, under the "Documents" tab. The form explains the criteria and the simple method that should be used to submit one or more nominations. Those nominating a business must have permission from that business.
-30-
CUTLINE: Here is the new logo for the 2014 Lauriers de la PME for PEI.
For more information:
Raymond J. Arsenault
Coordinator, Acadian Entrepreneurs' Gala
RDÉE PEI and CCAFLIPE
(902) 854-3439, Ext. 231
raymond@rdeeipe.org