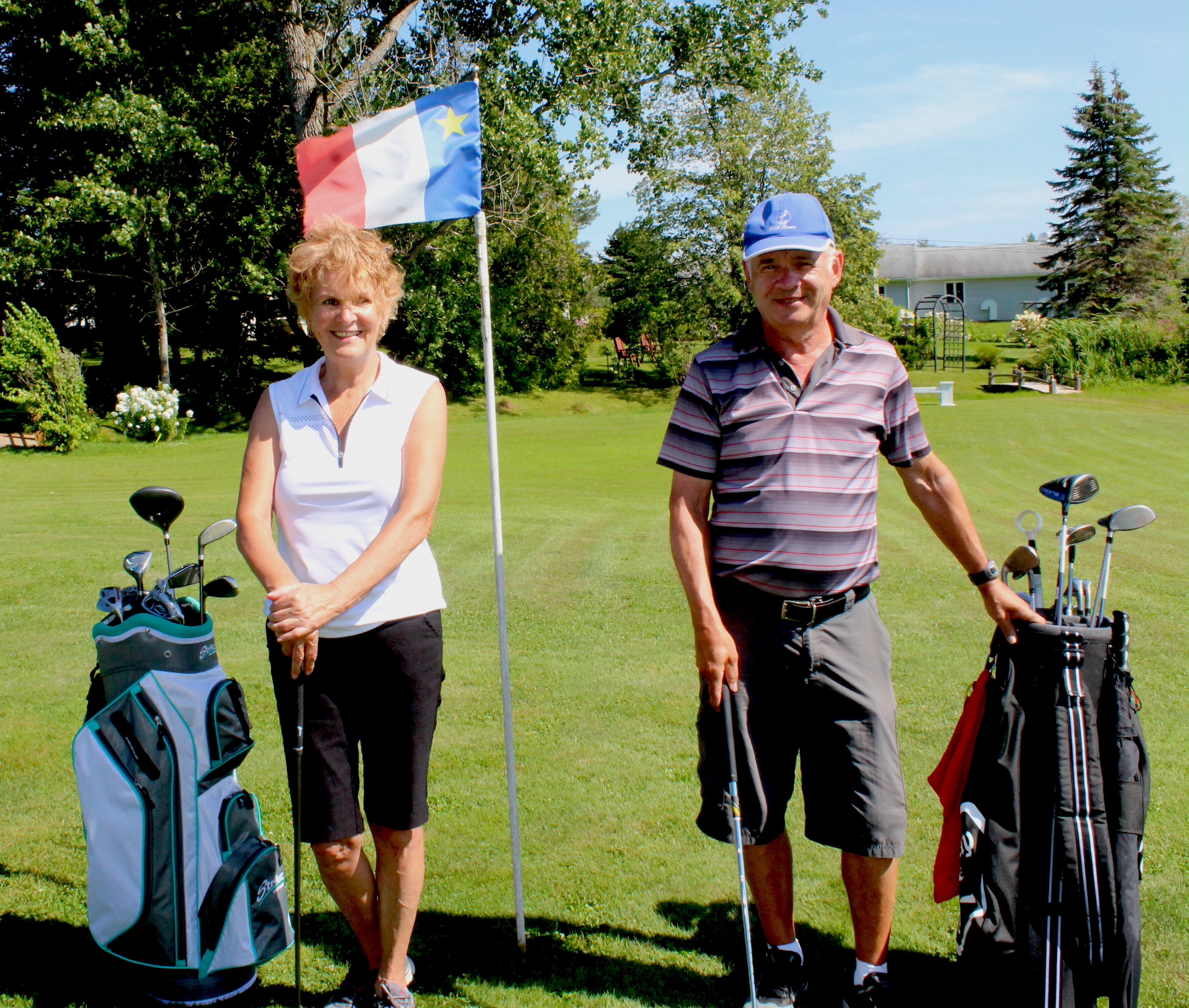 WOODSTOCK – Aug. 19, 2021 – There are still spots for a few more golf teams to participate in the 15th Acadian Golf Tournament Sunday, Sept. 12, 2021, at 12 noon at the Mill River Golf Course in Woodstock. However, interested players must act quickly since the deadline for registration is Aug. 31.
The organizers – the PEI Regional Committee of Les Jeux de l'Acadie and the Acadian and Francophone Chamber of Commerce of PEI – would like the tournament to have 100 golfers, or 25 teams. They note that players can register for this friendly tournament in teams of friends, families, organizations or businesses for a fee of $400. This provides teams with an 18-hole round, two carts, snacks, a delicious supper, small promotional items and the chance to win a number of great prizes awarded by merit or random draw. The name of the winning team will be inscribed on a permanent plaque.
Gabriel and Erma Arsenault sign up every year to enjoy a great afternoon of golf, the fun atmosphere of the event and the chance to win prizes. But they also participate to support the Island's francophone youth since the event is a fundraiser that helps the PEI Regional Committee organize its annual programming, including participation in the next games finals in Quispamsis and Saint John, New Brunswick.
FOUNDER
Around 1980, Gabriel was the founding president of the original Acadian Golf Tournament, when the event was a fundraiser for the Evangeline Recreation Commission. As far as he remembers, he has never missed any of the Acadian tournaments, neither in their original series, nor since the resurrection of the tournament 15 years ago. He encourages all those who love the game to participate, no matter what their level.
In fact, organizers point out that the tournament is aimed at both beginners and experienced golfers. The only things players need to bring are golf clubs, balls and tees.
Businesses and organizations are also encouraged to contribute merchandise or gift cards as prizes.
To register or donate prizes, contact Jeannette Gallant by phone at 902-439-2791 or by email at jeannettegallant@gov.pe.ca by the end of this month.
Mill River Resort has also reserved a block of 10 bedrooms for golfers who would like to stay overnight in this beautiful part of the province. Interested parties should reserve their room immediately, mentioning their participation in the Acadian Golf Tournament to take advantage of the special rate.
-30-
PHOTO: As they always do, Erma and Gabriel Arsenault of Wellington signed up for the 15th Acadian Golf Tournament, not only because they love to golf but because they want to offer their financial support to the young PEI participants of the Jeux de l'Acadie.
For more information, please contact
Jeannette Gallant
Coordinator
PEI Regional Committee of Les Jeux de l'Acadie
902-439-2791
jeannettegallant@gov.pe.ca