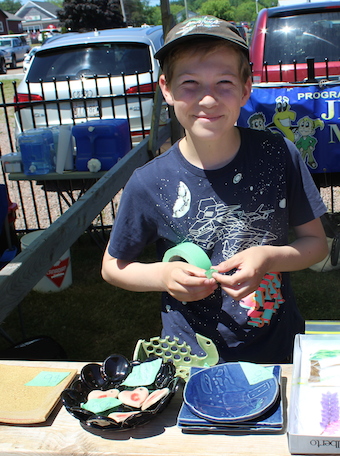 ABRAM-VILLAGE – Aug. 19, 2016 – « The Evangeline Area Agricultural Exhibition and Acadian Festival, on the first weekend of September, will provide the final opportunity for people to purchase products of all kinds from our 2016 francophone Young Millionaires, » says Stéphane Blanchard, youth development officer with RDÉE Prince Edward Island.
He notes that about a dozen youth will have tables in the Evangeline Recreation Centre in Abram-Village Friday, Sept. 2, to Sunday, Sept. 4, from 10 a.m. to about 6 p.m. to sell their treats, their works of art and their handcrafts.
"Our young francophone participants had a really great summer, so we're hoping that the weekend of the Acadian Festival will allow them to end their season on a positive note," he adds. "We are therefore encouraging the public to support our youth in their entrepreneurial learning endeavours by buying their products."
Again this year, RDÉE Prince Edward Island is delivering the provincial Jeunes millionnaires program, which is the French version of the Young Millionaires Program managed provincially by the Central Development Corporation. The program is funded through the Atlantic Canada Opportunities Agency and Innovation PEI.
-30-
CUTLINE: Artisan Étienne Foulkes from the business CraftE/CréatArt, along with a number of other members of the francophone Young Millionaires Program, will be at the Evangeline Area Agricultural Exhibition and Acadian Festival in Abram-Village Sept. 2-4 to sell their wares.
For more information:
Stéphane Blanchard
Youth Development Officer
RDÉE Prince Edward Island
(902) 370-7333, Ext. 402
stephane@rdeeipe.org