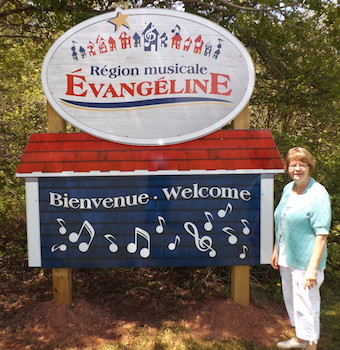 CAPE EGMONT – June 5, 2015 – Evangeline Tourism Association is organizing a special community evening Wednesday, June 17, starting at 7 p.m., at the Centre Goéland in Cape Egmont, to launch several signage and promotional initiatives that it hopes will help the region stand out even more in the eyes of its visitors.
"Since June is Tourism Month, we're inviting all our members as the public in general to participate in this beautiful celebration of our community and of our musical heritage," says new association president Réjeanne Arsenault.
She explains that the evening will feature several key elements:
the launching of the 2015 summer tourism season, during which the management of tourism businesses, tourism activities and summer festival will describe the products they're offering this summer;
the official launching of the new series of bilingual road signs for the "Village musicaux/Musical Villages" that will be posted at the entrance of each of the community's 14 small villages and municipalities;
the official launching of the small signs that will be posted by the residence of all musical artists of the region who request them;
and the launching of the 2015 membership drive for the association for all who would wish to become members.
Participants will be ushered into the event by the sounds of local traditional music and will get the chance, at the end of the evening, to watch Melvin and Lorraine Gallant of Abram-Village demonstrate their "Bunny Wool Art". A light lunch will be served.
During the evening, the association will also hold a brief general meeting. Members will be asked to approve the organization's proposal to change its fiscal year so that it runs from April 1st to March 31st. Its business year currently runs from Oct. 1st to Sept. 30th.
-30-
CUTLINE: Réjeanne Arsenault, president of the Evangeline Tourism Association, proudly shows one of the new "Musical Villages" signs for the area as she invites everyone to attend a special evening hosted by the association June 17 to launch several new initiatives.
For more information:
Réjeanne Arsenault
President
Evangeline Tourism Association
(902) 854-2254
maisonsbouteille@eastlink.ca
Claude Blaquière
Secrétaire
Evangeline Tourism Association
(902) 854-3256
claude2blaquiere@gmail.com