VANCOUVER, BC – Sept. 11, 2018 – Le Chez-Nous Co-operative Ltd., which manages a community care facility for elderly residents in Wellington, PEI, has just been named the winner of the national 2018 "Lauriers de la PME" Award, Service Business category.
The Chez-nous, which is celebrating its 25th anniversary this year, received its award from sponsor Air Canada during the 8th edition of the national Lauriers de la PME Gala, held in Vancouver, BC, Tuesday, Sept. 11.
Organized by RDÉE Canada, the Lauriers de la PME Awards are a competition held to recognize entrepreneurial excellence among small and medium-sized Acadian and Francophone businesses in Canada, outside of Quebec. During the gala, awards were also presented in the categories of Processing Business (Townsite Brewing from Powell Rivers, BC), Retail Business (Singer LeBlanc Aspirateurs from Caraquet, NB), Business Managed by a Young Person (La Ferme Terre partagée from Rogersville, NB) and Business Managed by an Immigrant Entrepreneur (Novhäus from Edmonton, AB).
This prestigious recognition comes at an appropriate time in the Chez-Nous' evolution since it is in full expansion phase. First of all, it is in the process of acquiring the assets of La Coopérative d'hébergement Le Bel âge, which operates an apartment complex for 24 seniors. In addition, Le Chez-Nous is awaiting word from the province on a request for licenses for 12 manor care beds. If these are granted, the co-op will proceed with yet a third expansion of its facilities.
As he accepted the award in Vancouver, Chez-Nous president Marcel Richard noted the co-op was created to lodge and therefore honor the seniors who have been the founders and leaders of the community.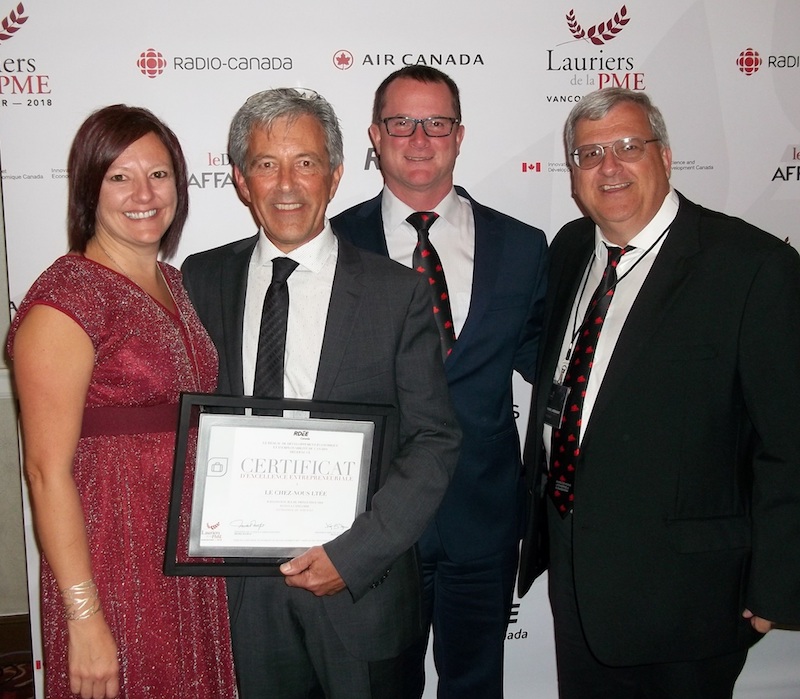 MAINTAINING LANGUAGE
"After 25 years of operation and after having welcomed almost 200 residents, our co-operative is recognized as a home where the elderly can continue to speak in their maternal language and live out their Acadian culture and heritage, all while appreciating life in their own community, near their friends and family," said the president.
"The Chez-Nous continuously aims to improve the quality of services for its residents and to reinvest in the local community so that it can help all seniors in the region. Awards such as this one (Lauriers de la PME) motivate us to keep working hard to meet the needs of our seniors today and into the future."
He concluded by thanking RDÉE Prince Edward Island for nominating the Chez-Nous for the award and RDÉE Canada and the panel of judges for having chosen the co-op as one of its winners.
The Chez-Nous is only the third Island business to win one of the national Lauriers de la PME awards. HMS Office Supplies of Summerside won the "Retail Business" Award in 2014 and The Bottle Houses in Cape Egmont won a "Coup de coeur" award in 2005. The Chez-Nous was the only PEI nominee in this year's national award competition.
The Chez-Nous provides work for 20 full-timers and six part-timers. The home provides lodging for 47 senior residents, but 34 more people are still on the waiting list. Some 250 volunteers help out with meal services, overall care of residents, spiritual life, administration and the organization of cultural, social and educational activities. The Co-op contributes about $750,000 in salaries and purchases to the local economy.
The Gala des Lauriers de la PME 2018 were held on the fringes of the national Élan Sommet 2018 economic conference and various national RDÉE Canada committees. The RDÉE PEI representatives – president Martin Marcoux, executive director Bonnie Gallant and communications officer Raymond J. Arsenault – participated in those meetings and attended the Gala. They were overjoyed to learn that the Chez-Nous had won.
-30-
CUTLINE 1: Marcel Richard, president of Le Chez-nous Co-op, center, accepts the national 2018 "Lauriers de la PME" Award, Service Business category, from Serge Corbeil, left, representative of award sponsor Air Canada, and mega-entrepreneur François Lambert, president of the award selection committee.
CUTLINE 2: Marcel Richard, president of Le Chez-nous Co-op, second left, shares the glory for his national 2018 "Lauriers de la PME" Award, Service Business category, with three representatives of RDÉE PEI that were at the national gala in Vancouver: executive director Bonnie Gallant, president Martin Marcoux and communications officer Raymond J. Arsenault.
For more information:
Edgar Arsenault, general manager
La Coopérative Le Chez-nous ltée
cheznous@pei.aibn.com
902-854-3426
Raymond J. Arsenault, communications officer
RDÉE Prince Edward Island
raymond@rdeeipe.org
902-902-960-1285