Co-op Order of Merit to be presented during evening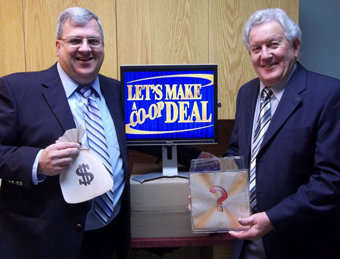 WELLINGTON, PEI – Nov. 16, 2012 – Co-operators from the Evangeline and surrounding areas will have the opportunity to win hefty sums of money and all kinds of merchandise when they participate in the "Let's Make a Co-op Deal" game show night Friday, Nov. 30, at 8 p.m. at Wellington Legion.
"We will be handing out several thousand dollars in prizes, cash and gift cards, provided by local co-operatives and other sponsors, throughout this highly-entertaining, bilingual evening," says Velma Robichaud, development officer with the Conseil de développement coopératif de l'Î.-P.-É.
"As well, on that night, we will also present the Co-op Order of Merit award to a deserving person who has worked a lot for co-operative development in the area. It's been several years since this award was presented but we thought now would be an ideal time to revive it."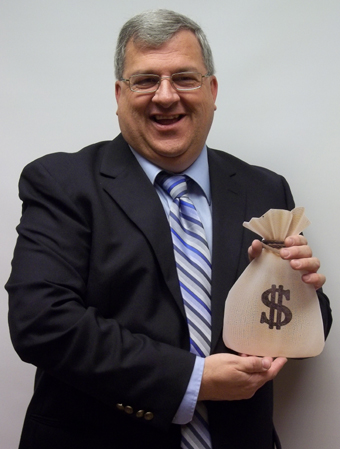 This event, organized to help close off the International Year of Co-operatives, will be similar to past "The Price Is Right" game nights that were organized a number of years ago to mark Co-op Week.
Well-known local personality Raymond J. Arsenault will take on the wheeling-and-dealing hosting duties of the evening, which will be similar in form to the "Let's Make a Deal" TV game show. He'll jump into the role formerly played by Monty Hall and more recently by Wayne Brady. Roger "Co-op" Arsenault, who was the prize announcer for the "Which Price Is Right?" benefit for Evangeline Recreation Centre a couple of years ago as well as a number of other game shows, will once again serve as announcer.
GAMES
Throughout the evening, the audience will get to see games similar to those played on TV while others will be brand new. Since the evening is organized by the local co-op movement, participants will have to answer a few multiple-choice trivia questions about local co-ops to win certain games.
When arriving at the event, people wishing to participate will have to write their name and phone number on a piece of paper. Random draws will then be made to select participants. Those who don't wish to participate in the games will also get a chance to win a few prizes.
The admission price will be $2 per person. The entire amount collected at the door will be given back to a lucky winner during a special game at the end of the evening.
A bar service will be available so the evening is open to adults only.
Official sponsors of the "Let's Make a Co-op Deal" are le Conseil de développement coopératif de l'Î.-P.-É., the Co-operative Development Initiative's fund for the International Year of Co-operatives, Evangeline-Central Credit Union, Wellington Co-op, The Co-operators, the Coopérative d'intégration francophone de l'Î.-P.-É., RDÉE Prince Edward Island and Wellington Legion.
-30-
CUTLINE: Host Raymond J. Arsenault, left, and announcer Roger "Co-op" Arsenault are getting ready for the "Let's Make a Co-op Deal" game night, to be held at Wellington Legion Friday, Nov. 30, at 8 p.m.
For more information:
Velma Robichaud
Co-op development officer
Le Conseil de développement coopératif de l'Î.-P.-É.
(902) 854-3658
velma@rdeeipe.org