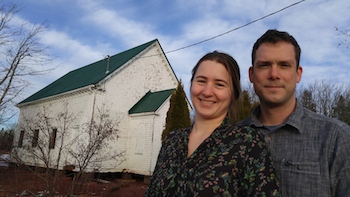 ST-TIMOTHÉE – Jan. 13, 2017 – By itself, the $10,000 top prize from last year's Dragons' Contest would not have been nearly enough to get Productions Piroune's new malt house in St-Timothée off the ground. But owners Karine Gallant and Iain MacInnes say the cash prize provided them great leverage in acquiring additional funding from various sources since they needed about $100,000 to set up shop.
But mostly, the fact that their entrepreneurial project was chosen as the contest champion by a jury of well-respected professional entrepreneurs brought them great visibility and credibility, even though their business was only in the pre-start-up phase.
Gallant and MacInnes therefore greatly appreciated what their participation in the Dragons' Contest brought them. The training day for all contestants with entrepreneurial expert Ron Robichaud also greatly helped them prepare their « pitch », not only for the contest finals but also later for meeting with various funding bodies.
THEIR PROJECT
Productions Piroune, which was registered in April of 2016, will operate a malting facility. In a nutshell, malting operations purchase specific varieties of barley and process it into malt to be used by breweries or distilleries. Productions Piroune plans to have product available for craft breweries during the summer 2017.
Their original project foresaw the installation of their equipment in a former farm rented in Mont-Carmel. At present, they have access to barley, grown for them by Urbainville Farms last summer, in the rented farm's silo. This particular barley is ideal for making pale malt that can be used for a lager or pilsner-style beer.
However, last fall, they learned that the former Abram-Village courthouse, located on the exhibition grounds, was going to be torn down. They therefore changed their plans to instead purchase the historic building and to move it to St-Timothée, close to the farm operated by Gallant's family.
They then began a series of major renovations to the building. As soon as the work is completed, over the next few weeks, they'll set up their equipment on both of the building's floors. Among this equipment is a specialized kiln made by Eddy Arsenault.
When the barley will arrive at the malt house, it will go through a first cleaning. Next, it will be soaked in tanks for what is called the steeping process for a specific number of hours. Then comes the germination process, where the barley is placed in temperature-controlled tanks so that it can begin to sprout. It must then go through a kiln to be dried and cooked and finally into a special piece of equipment called a « debearder » to remove the sprout. The barley characteristics, the duration of processing and the temperatures in the kiln will determine whether the resulting malt will be pale, brown or dark.
These operations make the barley's sugars and enzymes emerge; this is what gives the malt its specific taste. Further roasting of the grain as well as processing differences can also help produce different flavors or characteristics.
The malt then goes through a final cleaning and is ready for packing and shipping to the brewery.
FUTURE PLANS
Gallant explains the malt house will begin by providing malt to Island and then later Maritime microbreweries. One of the business' goals is to help develop new local products so that PEI can stand out, on the international scene, as a particular destination in the craft beer industry.
In the future, Productions Piroune would like to be able to offer public tours of its operations, possibly even open a little pub to serve beers produced with its malt and eventually start growing hops.
MacInnes, who has been making beer for about 10 years, travelled to Manitoba to get professional training from the Canadian Malt Academy. He is working full time on this project thanks to Skills PEI funding. Gallant is working for the business part-time.
The Productions Piroune project is also benefitting from contributions and supports from Innovation PEI, Finance PEI, CBDC Central PEI and Agriculture PEI.
DRAGONS' CONTEST
Organizers of the RDÉE PEI Dragons' Contest are currently looking for competitors for the 2017 edition of the contest. Once again, they are offering a $10,000 championship prize and other rewards for a Francophone business seeking to establish or expand a business or launch a new product or service. The registration deadline is Feb. 3.
For more details and to access the registration form, visit www.rdeeipe.net/dragons/.
-30-
CUTLINE: Karine Gallant and Iain MacInnes greatly appreciate the fact that the Dragons' Contest provided them with the $10,000 championship prize, in addition to great credibility and leverage to help them find the rest of the funding they needed to establish their malt house, Productions Piroune.
For details on the Dragons' Contest:
Nicole Allain
Contest coordinator
(902) 370-73333, Ext. 401
nicole@rdeeipe.org
For details on Productions Piroune:
Karine Gallant
Co-owner
902-303-3574
productions.piroune@gmail.com