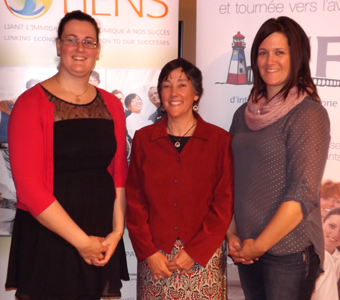 WELLINGTON – Nov. 7, 2013 – On the occasion of National Francophone Immigration Week, 27 people had the opportunity to hear a touching testimonial of an American immigrant who settled on PEI seven years ago.
During two lunch-and-learns organized by the LIENS project and the Coopérative d'intégration francophone de l'Î.-P.-É. in Charlottetown Nov. 5 and in Wellington Nov. 7 that Dottie Daly from St. Peter's Bay told her interesting story.
The lady, who speaks four languages, lived and worked in various countries before arriving on PEI. She admits that the journey towards her Canadian citizenship has sometimes proven to be a long, hard road, mainly because of her former military career. In fact, she isn't a citizen yet; she's classified as a permanent resident.
Today, she and her husband own and operate a bed-and-breakfast called Tír na nÓg Inn in St. Peter's Bay and a restaurant-pub called Cross Keys Bar & Grill in Morell.
In the photo, Daly, centre, is seen with LIENS coordinator Catherine Rioux, left, and Priscille Arsenault, western coordinator for the Coopérative d'intégration francophone.