RDÉE PEI and Acadian Chamber offer congratulations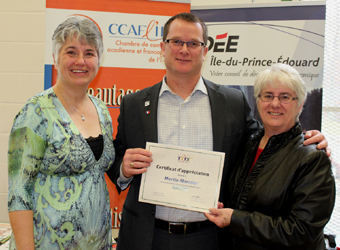 CHARLOTTETOWN – Nov. 14, 2015 – RDÉE Prince Edward Island and the Acadian and Francophone Chamber of Commerce of PEI take great pleasure in congratulating Martin Marcoux of Charlottetown for winning one of the Voluntary Resource Council's 2015 Outstanding Volunteer Awards.
Marcoux and either other "outstanding volunteers" from PEI were recognized for their vast contributions to the Island community during a gala breakfast at the Murphy Community Centre in Charlottetown Saturday, Nov. 14.
"We nominated Martin for this award because he is truly an exceptional and outstanding volunteer who gives himself, body, heart and soul to so many important PEI causes," says Jeannette Arsenault, the current RDÉE PEI president, referring to the past president of the organization. "In fact, he's one of the most devoted people we know."
"He was the founding president of RDÉE PEI Inc. five years ago when we became independently incorporated. But we had seen him working full tear even before that, starting in 2008, when the RDÉE was still under the umbrella of the Baie Acadienne Development Corporation and he had been elected chairman of the RDÉE advisory committee. He guided us fearlessly but sensibly through our successes and our growing pains."
She adds that Marcoux continues to serve on the boards of both RDÉE PEI and RDÉE Canada. In addition, last June, he was named spokesman for the Acadian and Francophone Chamber of Commerce of PEI, after serving on its committee for five years.
Among his other countless volunteer involvements:
President of the Fundraising Committee for the 2015 Finals of Les Jeux de l'Acadie
Treasurer and representative of the City of Charlottetown on the Organizing Committee of the 2015 Finals of Les Jeux de l'Acadie
President of the 2006 Atlantic Canadian Ringette Championship
Board member of the Université Sainte-Anne Board of Governors
Board member of the PEI Foundation
Board member of Les Francofolies Festival in Charlottetown
Volunteer co-organizer of the annual fundraising golf tournament (Golf for Life) of the Canadian Mental Health Association
Volunteer with Habitat for Humanity
Volunteer project leader with Ellen's Creek Watershed Group (RBC Blue Water Project – planting trees and cleaning streams)
Fundraiser/participant in the Canadian Cancer Society's Relay for Life (setting up the RBC area for the relay)
Member or former member of the Bathurst, Campbellton and Charlottetown Chambers of Commerce
Volunteer with the PEI Connectors Program
Volunteer at the Mi'Kmaq Confederacy of PEI's annual powwow event.
Professionally, Marcoux is the senior business accounts manager at the RBC (Royal Bank of Canada) in Downtown Charlottetown. He has 23 years of experience in financial services and holds a BBA from Université Sainte-Anne. He began his career as student services manager at the university. Three years later, in 1992, he joined the RBC team in Yarmouth, N.S. Over the years, he worked in personal financial services in Moncton and Richibucto in New Brunswick before switching over to commercial services in 1997. In 2002, after spending a few years in Bathurst and Campbellton, Marcoux, his wife and two children moved to Charlottetown.
-30-
CUTLINE 1: Catherine Ronahan, board member of the Voluntary Resource Council, presented one of nine « Outstanding Volunteer » awards to RDÉE PEI past president Martin Marcoux Saturday in Charlottetown. Jeannette Arsenault, current president of the RDÉE, who had nominated Marcoux, was on hand to congratulate him.
CUTLINE 2: The nine recipients of the Outstanding Volunteer Awards.
For more information:
Raymond J. Arsenault
Communications Officer
RDÉE PEI Inc.
902-854-3439, Ext. 231.
Raymond@rdeeipe.org