DFO accepts original community proposal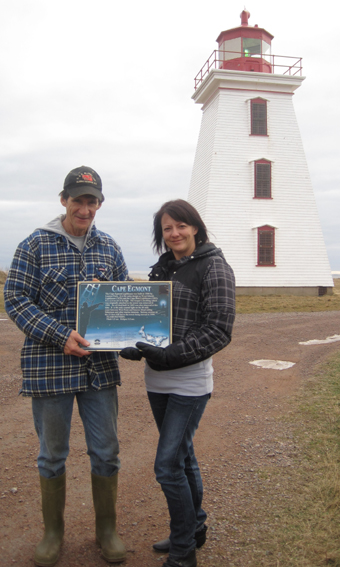 MONT-CARMEL, PEI – April 17, 2013 – Now that the Department of Fisheries and Oceans (DFO) has accepted to grant conditional ownership of the Cape Egmont Lighthouse to the people of the Evangeline area, the community must now decide precisely what it wants to do with the site and how it wants to develop it.
Evangeline Tourism Association and RDÉE Prince Edward Island are therefore organizing a public meeting for all interested parties from the community on Thursday, May 2, at 7:30 p.m. at the Mont-Carmel Parish Hall to discuss options and suggestions that are already on the table.
The development project could either be carried out by a community organization, the private sector or a partnership of the two.
It should be noted that one of the options has already retained the attention of consultant Harvey Sawler when he had prepared a new strategic tourism positioning strategy for the Evangeline region. He suggested the development of a tourist destination that would encompass both the Cape Egmont wharf and lighthouse; it would include a trail linking both sites, the promotion of the beach next to the wharf and the construction of deluxe rental cottages near the lighthouse and/or wharf.
Organizers of the meeting a however reminding everyone that it is up to the community to decide what it wants to do with the site. During public meetings last year, citizens had offered a long list of ideas. Armed with this list as well as with the support of the community, the Evangeline Tourism Association had submitted an official request to DFO, asking that the federal department donate the Cape Egmont Lighthouse and the 1.392 acres that surround it to the community.
Now, after deciding exactly what it wants to do, the community will have to develop and submit a detailed business plan to DF0. Once the plan has been officially accepted by the department, the property transfer will be officially take place.
-30-

CUTLINE: Standing near Cape Egmont Lighthouse, local fisherman Robert Gallant and RDÉE PEI executive director Bonnie Gallant look over a plaque received from the provincial lighthouse association. They are getting ready for a May 2 public meeting being organized to decide how to develop the lighthouse site.
For more information:
Alcide Bernard
Evangeline Tourism Association
854-3300