Store's financial situation at "a critical point"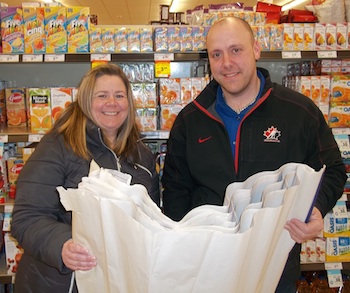 WELLINGTON – Feb. 9, 2017 – All members of the Wellington Co-op are asked to attend an "extremely important" meeting Wednesday, Feb. 22, at 7 p.m. at the Vanier Centre in Wellington to discuss the future of their store since its financial situation has reached "a critical point", according to president Lisa Arsenault.
One potential life-saving avenue that will be discussed will be the sale of alcoholic beverages, to compensate for the forthcoming closure of the Wellington Liquor Store, explains Arsenault. The provincial government has accepted the co-op's tender to take over liquor sales in the area; the members must now decide if they want to accept the province's offer.
However, to accommodate the sale of liquor, the Co-op would have to either build onto the front of its store or buy or rent and renovate an existing section of the Place du Village mini-mall, which is physically attached to the Co-op store. Use of the existing liquor store space is not an option since the PEI Liquor Control Commission is asking for a larger sales area.
SIZEABLE INVESTMENTS
"Regardless of the option we might pick, the project will require sizeable investments and won't be successful unless members fully commit to supporting their co-op by shopping there more often," adds the president.
During the meeting, manager Rick Arsenault will provide an update on the Co-op's financial situation. He will talk about the fact that sales have seen substantial drops over the past year, that the Co-op is in a deficit situation and that this trend has to change if members want to ensure the survival of the store.
Then, the manager and he president will explain the proposal to sell liquor, the investments that will be required, the renovation and expansion options, the number of additional employees that would be hire, the security measures that would be put in place, and, obviously, the potential profits of such a project.
"Then, we'll ask our members to vote for or against the project," adds Arsenault. "We therefore beg all of our members to attend this special meeting since we have to take decisions that could have a major impact on the future of our store. You must be there to have your voice heard."
-30-
CUTLINE: Wellington Co-op president Lisa Arsenault looks over proposed expansion plans with store manager Rick Arsenault as they prepare for the special members' meeting slated for Wednesday, Feb. 22, at 7 p.m. at Wellington Vanier.
For more information:
Lisa Arsenault
President, Wellington Co-op
902-315-2062
Rick Arsenault
Manager, Wellington Co-op
(902) 854-2951
coop9294mgr@sobeys.com