Offered in Acadian Chamber/RDÉE member directory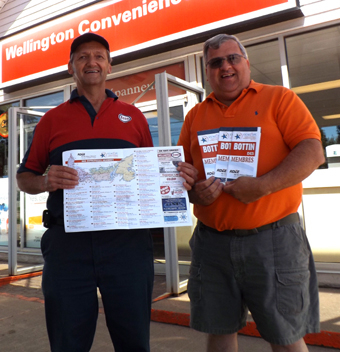 WELLINGTON, PEI – Aug. 7, 2013 – Free coffee and cappuccino and a free opportunity to dress up like Anne of Green Gables, along with discounts of the purchase of salads, office supplies and restaurant meals: all of these little gifts and savings are offered to the public through coupons contained in the brand-new member directory published by the Acadian and Francophone Chamber of Commerce of PEI and RDÉE Prince Edward Island.
Those wishing to benefit from these coupons simply have to obtain a copy of the directory (in pamphlet form) and cut out the coupons. The directory can be obtained at Chez Cartier café in Alberton; Cavendish Figurines in Borden-Carleton; HMS Office Supplies and Centre Belle-Alliance in Summerside; at the offices of the RDÉE at the Carrefour in Charlottetown; at the Bottle Houses in Cape Egmont; at the Centre Expo-Festival in Abram-Village; and finally at the Wellington Rural Action Centre, the Wellington Co-op and at Wellington Convenience Store.
Those are interested should however act quickly since quantities are limited and their expiry date is generally around the end of September or October.
"We've published 1,000 copies of the members' directory," explains Chamber coordinator Raymond J. Arsenault. "When you unfold it, you see a map of PEI. Just below the map is a numbered list of our member businesses, along with their contact information. By checking the numbers that are also on the map, it is easy to find where each of the businesses is located."
On the back of the map is a list of member organizations and a brief description of the RDÉE and the Chamber. Readers will also discover a list of benefits offered to members; they'll also learn how to become members of the Chamber.
"This directory is an excellent way to promote our members and their services," adds Arsenault. "We also gave them an opportunity to purchase a coupon space to help them attract new clients to their businesses."
He explains that the directory represents a first try with coupons of this type. If the project is deemed to be beneficial, it is quite possible that it will be repeated, possibly in time for the Christmas shopping season.
"We therefore invite all Island consumers and tourists to pick up a copy of the directory and to use its coupons," concludes Arsenault.
-30-
CUTLINE: Raymond J. Arsenault, right, coordinator of the Acadian and Francophone Chamber of Commerce of PEI, and Donnie Arsenault, owner of Wellington Convenience Store, examine the map contained in the members' directory, which shows where each member-business is located. The convenience store and gas bar is one of the businesses that have a coupon in the directory.
For more information:
Raymond J. Arsenault
Coordinator
Acadian and Francophone Chamber of Commerce of PEI
(902) 854-3439, poste 231
raymond@rdeeipe.org