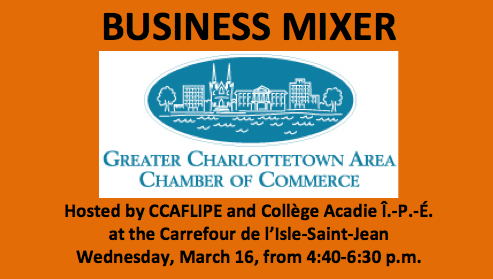 CHARLOTTETOWN – March 9, 2016 – Several other businesses and organizations have added their information booths to the business mixer being organized by the Greater Charlottetown Area Chamber of Commerce taking place at the Carrefour de l'Isle-Saint-Jean in Charlottetown Wednesday, March 16, from 4:30-6:30 p.m.
First of all, the Chamber will have its booth. Next will be those from the two hosting organizations, the Acadian and Francophone Chamber of Commerce and the Collège Acadie Î.-P.-É., along with the mixers' general sponsor, MRSB Group.
Participants will also be able to receive information on products or services offered by the Boys and Girls Club of Charlottetown, Elwood Cleary (Melaleuca), SignCut Inc. and PEI Connectors.
All PEI business people are invited to drop into the mixer to establish contacts with other entrepreneurs, to snack on delicious hors d'oeuvres, to learn about various services and products, and to get a chance to win door prizes offered at each booth.
The mixer will have a distinctly Acadian and Francophone flavour. Admission is free.