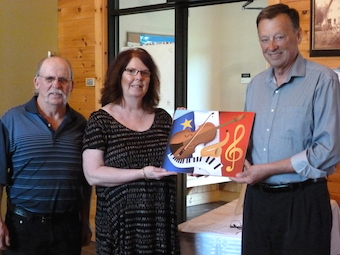 WELLINGTON – July 9, 2015 – PEI's Evangeline region has always stood out because of its proud Acadian culture and French language, a distinct cuisine, a strong co-operative and community spirit, ever-popular festivals and, of course, its lively fiddle-based traditional music and its countless musicians. Now, thanks to new and colourful signage, the region will also stand out visually.
Following its newly-adopted "Acadian Musical Villages" theme, the Evangeline Tourism Association has erected bilingual welcome signs at each entry point to the region as well as individual community signs at the entry of each of the 14 villages and municipalities of the region. The signs, all featuring the four colors of the Acadian flag (red, white, blue and yellow), depict 14 small houses as well as a few musical notes.
A second type of sign is also available for all musical artists. These smaller signs, featuring a keyboard, a fiddle, musical notes and the Acadian flag, can be placed in a musician's yard or by the roadside to indicate where a musician lives. Eventually, all the musicians who have these signs will have their musical profile included on a future website.
These two major initiatives were recently announced during the official launch of the 2015 tourism season in the area. Réjeanne Arsenault, president of the Evangeline Tourism Association, explained that the intention of these signs is to create a striking visual image about the reality of the Evangeline area that will stay with visitors.
"If you were to pass through our region once the signs are all set up in the musicians' yards, you'd also see all the community signs, so you couldn't help but be struck by the distinctiveness of our area," she said.
The association is also looking at two other initiatives for the current season. First, it will hire a photographer to take pictures throughout the area to create a collection of photos for future promotional purposes. Secondly, the association wants to implement a standardized tourist survey to identify where visitors are from and how they found out about the Evangeline area. The results will help to determine which marketing initiatives are more effective and and where promotional budgets should be spent.
-30-
CUTLINE: Théodore Thériault, right, a member of the board of directors of the Evangeline Tourism Association who designed the signs, hands a small performing artist sign to fiddler Norman Arsenault and pianist Paula Arsenault, so that they can place it in their front yard. Other, much larger signs are being placed at the entry of each village and municipality of the Evangeline region.
For more information:
Réjeanne Arsenault
President
Evangeline Tourism Association
(902) 854-2254
maisonsbouteille@eastlink.ca
Claude Blaquière
Secretary
Evangeline Tourism Association
(902) 854-3256
claude2blaquiere@gmail.com