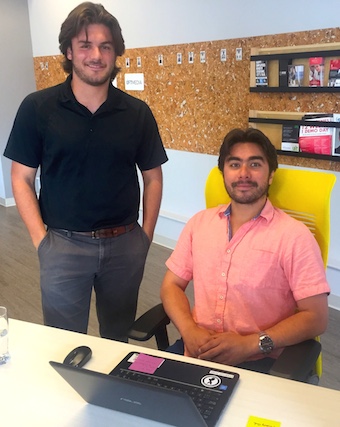 CHARLOTTETOWN – July 15, 2016 – To better serve its clients from a centralized location, the LIENS project recently established a new Employability and Entrepreneurship Resource Centre (or CREE in French) for French-speaking immigrants, in the RDÉE Prince Edward Island offices at the Carrefour de l'Isle-Saint-Jean, at 5 Acadian Dr., Charlottetown.
Sylvain Duguay, the new coordinator for LIENS (Linking Economic Immigration to Our Successes), and his colleague Robert Maddix, immigration development officer with RDÉE PEI, will manage the centre and serve immigrant clients free of charge.
"Over the past few years, we've developed several programs and services through the LIENS project that we've brought together in this centre: support in job searching, support in starting and expanding businesses, our Work Experience Internship Program and our Entrepreneurial Coaching Program," explains Duguay.
"In addition, we provide our clients with free temporary office space, computers they can use while they're here, work tables, a conference room and a resources library."
He adds that the CREE will work closely with various other partners, including the Wellington Rural Action Centre, to ensure a complete service in French.
"For an immigrant arriving in a new country, it can be fairly scary to try to integrate oneself into the local work market or to set up a new business, especially if one does not know the market or the industry's key players very well," notes Duguay. "Our job is to facilitate their integration into the work market so that they can become, as soon as possible, workers or entrepreneurs who contribute to the provincial economy and their new community of adoption."
The coordinator notes that the centre will be expanded over time to meet demand. The centre can be reached at (902) 370-7333, Ext. 404, or at sylvain@rdeeipe.org.
The CREE is an initiative of RDÉE PEI's LIENS project, which is funded by Immigration, Refugees and Citizenship Canada. The European Commission recently declared that the LIENS project was considered an "inspirational" international best practice in immigrant integration.
-30-
CUTLINE: Sylvain Duguay, standing, coordinator of the LIENS program, chats with former LIENS client Sergio Olvera about the new CREE, the employability and entrepreneurship resource centre for French-speaking immigrants, in Charlottetown. Olvera currently work at the Startup Zone in Charlottetown, where he is responsible for programs and events.
For more information:
Sylvain Duguay
Coordinator
LIENS project
RDÉE PEI Inc.
(902) 370-7333
sylvain@rdeeipe.org