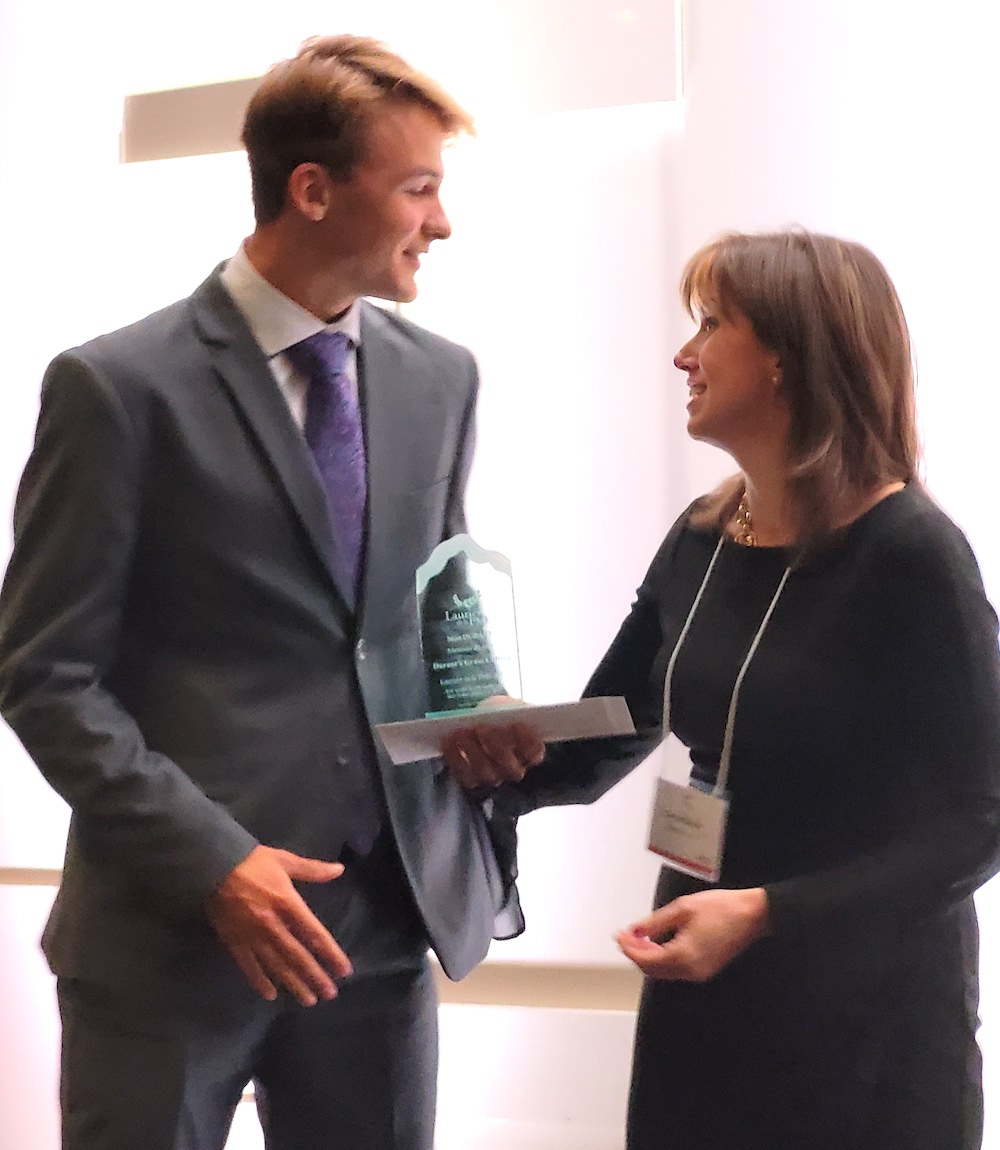 OTTAWA – Sept. 28, 2022 – Young professional lawn cutter Nico Durant of Mont-Carmel, PEI, who has been in business since the age of 10, has just been awarded the « Judges' Mention – Out-of-Category Award » from the 2022 Lauriers de la PME national entrepreneurial awards competition.
Durant received his recognition for his great entrepreneurial spirit and potential during RDÉE Canada's prestigious 2022 Lauriers de la PME Awards Gala, held in the national capital of Ottawa, Sept. 28. Seven other businesses, all from Western and Northern Canada, also won awards.
No one in the Gala ballroom was happier about to hear the name of the young Island winner than the RDÉE Prince Edward Island team, who were also in Ottawa to participate in the National Summit on Francophone Economics in a Minority Situation.
« We've been watching Nico work very hard to develop his entrepreneurial skills for several years now, » said Dr. Christian Lacroix, president of RDÉE PEI and the Island's representative on the national board of directors of RDÉE Canada. « We first saw him work for three summers in our Young Millionaires program with his stilt- and toy-manufacturing company, LaFun. Then we saw him develop Durant Metals, through which he made outdoor stoves by welding car wheels together. And then, we saw him establish his lawn mowing service, Durant's Grass Cutting, and grow his business from a handful of clients in 2019 to more than 50 residential and commercial clients the past two summers. He is currently providing seasonal work for six other bilingual people from his community! »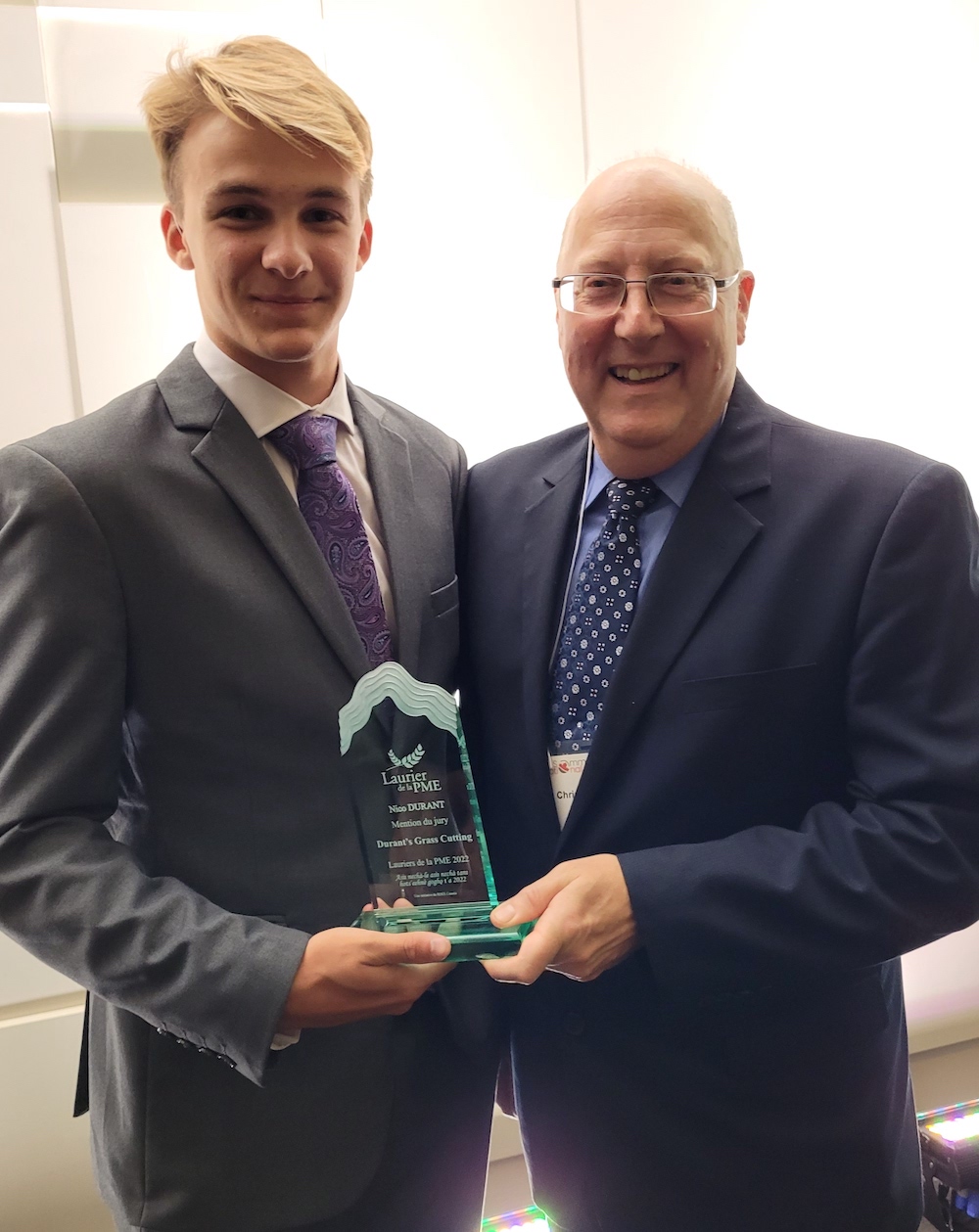 « It was a great honor for us to present him with the Young Millionaire Award in 2015. Last spring, our Acadian and Francophone Chamber of Commerce of PEI also awarded him its 2022 Young Enterprising Person of the Year Award for his extensive economic contribution, » adds Lacroix. « So to see Nico shine again tonight – and especially at the national level… it gives us great joy. We are so proud of him. »
HIS STORY
Nico was born in 2004 into a family that had entrepreneurship and business in its blood; for several decades, his grandparents were entrepreneurs or business managers. His father has always been a "putterer" who can make anything while his mother is a woman of great discipline. Nico has undoubtedly inherited all these great family qualities.
The young man openly proclaims that it was during his three summers in the Young Millionaires program that he became hooked on entrepreneurship. Nico, with his ever-present smile and charming personality, travelled to various festivals and events throughout the province to sell his popular and attractive products. Each summer, he managed to pocket a handsome profit. He kept reinvesting his earnings into his business.
At the same time, he continued his school studies and pursued his athletic interests, including as a competitive provincial and national swimmer (often winning medals), as a school athlete and at the Jeux de l'Acadie, and then as a volunteer soccer coach for the GoPEI program (2019) and mini-handball for the Jeux de l'Acadie (2016 to 2020). Since 2017, he has been a swim meet timekeeper. In 2019, he also began working part-time at Canadian Tire in Summerside.
Also, in the spring of 2019, he established his company Durant's Grass Cutting; Nico's mission is to provide exceptional lawn mowing and property maintenance services. As soon as each spring arrived, Nico would invest as many hours as possible in his business, mowing lawns, figuring out work schedules, preparing estimates and contracts, taking care of accounting and billing, etc.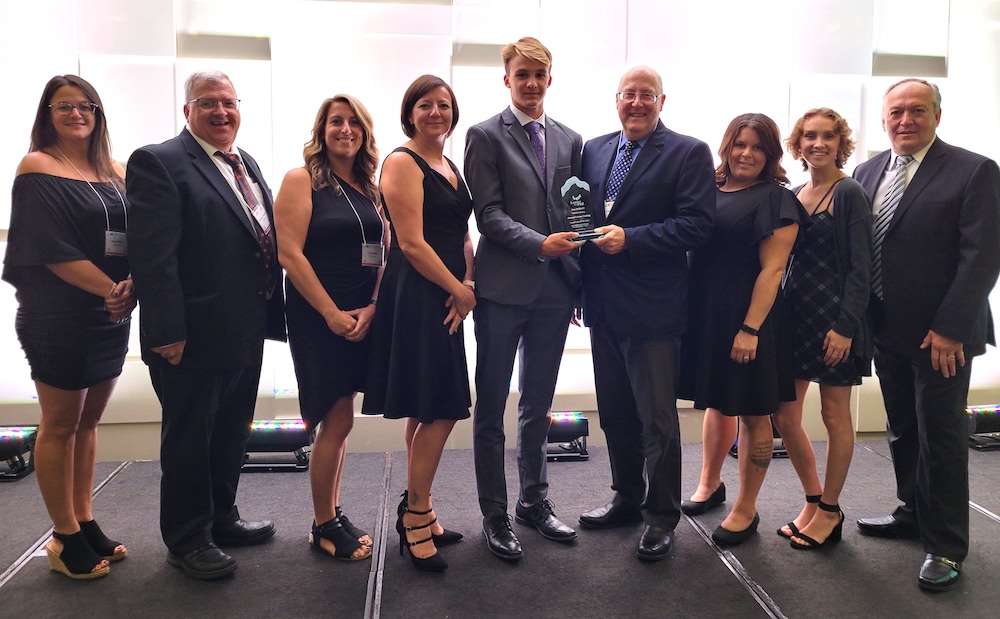 With a natural business sense and an affinity for customer service, Nico continues to succeed and impress with his attention to detail and pride in his craft. He continues to nurture his entrepreneurial spirit by consulting with his mentors, highly placed entrepreneurs who are more than happy to counsel him. "If I continue to follow their advice, there's really no telling how far I could go," he said during an on-stage interview at the Gala.
Nico truly believes in the principal of "paying it forward"; last summer, he gave two workshops to children from the Young Millionaires Program, which gave him his start.
Quite recently, Durant also got a full-time job as an insurance and investment broker with Front Gate Financial Group. That means he has had to relinquish some of his mowing responsibilities to other staff members, but he affirmed with a smile, "I still get my hands dirty." He has also registered for the online Master of Business Administration program with Yorkville University.
-30-
PHOTO 1: Nico Durant receives his « Judges' Mention – Out-of-Category Award » from judge Carole Breton during the 2022 Lauriers de la PME national entrepreneurial awards gala in Ottawa Sept. 28.
PHOTO 2: Young entrepreneur Nico Durant from Durant's Grass Cutting is heartily congratulated by Dr Christian Lacroix, president of RDÉE Prince Edward Island, the organisation that nominated him for the 2022 Lauriers de le PME awards competition.
PHOTO 3: The RDÉE Prince Edward Island delegation, attending the 2022 Lauriers de la PME awards gala, poses proudly with the winner of the « Judges' Mention – Out-of-Category Award ». From left are Amy Richard, Raymond J. Arsenault, Julie Gallant, Bonnie Gallant, Nico Durant, Dr. Christian Lacroix, Josée Ouellette, Alecia Arsenault and Robert Maddix.
PHOTO 4: Durng the national Gala, interviewer Véronique Soucy asked Mont-Carmel's Nico Durant all about his business, Durant's Grass Cutting, as well as about his entrepreneurial approaches.
For more information, please contact
Raymond J. Arsenault
Communications Officer
RDÉE Prince Edward Island
902-960-1285
raymond@rdeeipe.org